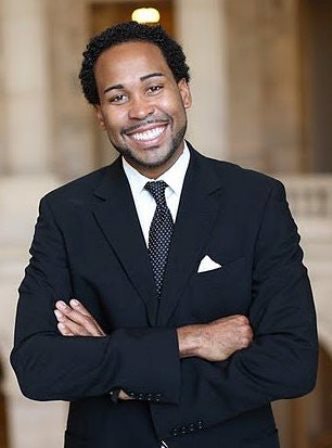 As executive director for the White House Initiative on Educational Excellence for African-Americans, David Johns often utilizes social media to promote awareness and dialogue about how to achieve success in higher education.
"We need to ensure that all Black children know they can go to college [and] expect to graduate from college," tweeted Johns during an hour-long Twitter interview on Thursday afternoon.
Johns fielded questions about issues facing African-Americans in the classroom, such as, "should the focus be on problems with AA students or changing the environment around them?" He responded that environment matters. Part of addressing student issues is addressing the surroundings in which they learn.
The interview was part of TTG+Partners Twitter chat series that spotlight hot topics and trends in higher education, especially as they relate to matters of diversity and equality.
"We're looking at engaging the community that we have on Twitter that will spark people's conversations and thinking in a new direction," said Tia T. Gordon, founder and CEO of TTG+Partners, a communications company.
"The focus is specializing in starting thoughtful conversations on race, ethnicity and diversity in higher education."
On a daily basis, Johns is active on Twitter highlighting issues important to him.
"For me, Twitter provides an opportunity to amplify messages," he told Diverse following the Twitter chat. "As someone who has an opportunity to make critical connections and raise awareness about programs and grant opportunities and things like ConnectEd, Twitter allows me to have conversations with people who might not otherwise have access to the information."
In his one-on-one interview with Diverse, Johns spoke about how individuals desirous of being part of promoting educational opportunities for African-Americans can use social media. It's not random—study Twitter and follow individuals and entities that promote positive awareness and get a grasp of it before beginning to tweet.
"Leverage Twitter to access a lot of data that exists around education and development opportunities for children and youth," he said. It helps arm advocates with facts and debunk myths.
An important issue for Gordon was Trayvon Martin, posing the question: "Does the edu community have a role in helping people, especially African-American youth, heal from this case?" Johns referred to President Obama's comments following the verdict, tweeting, "The Education community, the African American community, all caring adults have a responsibility to educate and support Black kids.
"I think about the President's reflections after the Zimmerman [not guilty] verdict in talking a lot about being a Black man in America," Johns told Diverse. "… in that moment in particular, [the president] provided us with an opportunity to have these conversations … to talk about the implications and impact of social, cultural factors like toxic stress and trauma."
Johns added, "We have to continue to push each adult to have these tough conversations that are often painful, difficult and challenging by design and in that way become easier to ignore."
Among Johns tweets were comments encouraging parents to become advocates not only for their own children, but for the community at large. He referenced issues raised by President Obama and supported by the White House Initiative on Educational Excellence for African-Americans, including increasing access to high-quality early education opportunities; recruiting minority educators to support learning and development; recruiting mentors, particularly men, to support learning and development; reframing the narrative around boys and men of color; and working with parents and families to ensure they're informed and engaged.
"Parents should feel empowered … to host discussions with other parents or concerned adults around the topics that matter most," said Johns. "The ability to get together with like-minded people, to step outside of the silos that we typically find ourselves isolated in because of the habits of being an adult is important. This is a space where we can have tremendous impact by being thoughtful about the ways that we leverage technology."