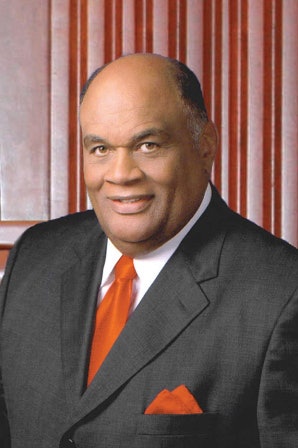 NORFOLK Va.—Five weeks after he was hired to head Norfolk State University, Eddie Moore Jr. is working through a long to-do list to turn around the struggling campus an undertaking that has revealed both unanticipated problems and pleasant surprises, he said Tuesday.
In an interview with The Virginian-Pilot's editorial board, Moore, 65, said that in some areas, particularly the school's finances and written policies, "the hole was larger than I thought it was."
Among the first things he did, he said, was ask for NSU's presidential and governing board policies.
"People sort of looked at me with a blank," Moore said. "The procedures the how-to we've lost a lot of that. It means that before you can correct the problems, you need to put in the definitions of how you're going to function after the problem is corrected. So you need two sets of people, two sets of resources: one to catch up, and one to make sure you don't fall behind again."
Moore was hired as a fixer and interim president in September, after NSU's governing board fired Tony Atwater, who had been in the job since 2011. The university is grappling with a range of problems, including poor graduation rates, declining enrollment, high turnover among administrators, a governing board shake-up, and an investigation by its accrediting agency, the Southern Association of Colleges and Schools. The accrediting agency began looking at NSU earlier this year over its failure to finish financial audits on time.
In March, the Virginia Board of Nursing barred NSU from accepting new students into its associate-degree nursing program because of graduates' low passing rates on a national licensing exam. The university is considering ending the program, once a signature offering.
Known for his financial savvy and connections in Richmond, Moore spent nearly two decades as Virginia State University's president. He was chosen for that campus in 1993 to fix problems similar to those at NSU.
Moore said Tuesday that he accepted the position in Norfolk "for the challenge," and he believes his time at VSU and St. Paul's College in Lawrenceville, where he worked briefly after VSU, have prepared him for the job.
He said correcting NSU's financial problems is his top priority. Even with thousands of hours of state help, the university did not complete its 2011 audit until last month. It hadn't consistently reconciled accounts or inventoried fixed assets in years.
Moore said NSU got new financial software that should have helped, but it wasn't used properly. Administrators with expertise in the program left their jobs without passing on their knowledge, and additional vacancies in financial departments worsened problems.
"When you lose your financial system, you're rudderless," Moore said.
He said progress has been made, though, and he's monitoring it closely: "The tone at the top is important. You can't expect what you don't inspect, and I'm inspecting this often."
He said NSU will have its 2012 financial statements to auditors by early November, and 2013 by January.
Among the pleasant surprises: Moore said he found about $1.6 million that NSU wasn't aware of, including $700,000 in unanticipated tuition revenue and about $900,000 in reimbursements for academic equipment from the state, for which NSU hadn't applied.
To help correct the university's finances, Moore hired a compliance officer, Clementine S. Cone, with whom he worked at VSU.
He said he'll also advocate for hiring dozens of faculty members, partly to replace adjuncts, of which he said the university has too many.
As part of its investigation into NSU, the accrediting agency sent a team to the campus in September. NSU recently received the team's report, Moore said. In addition to the nursing program and financial problems, he said, it named board governance as a key concern.
Earlier this month, Gov. Bob McDonnell asked at least two NSU board members to step down. One has done so. Moore said that he did not ask for the resignation requests and that he hopes he and NSU's board can cooperate.
He said he believes the accrediting agency will issue NSU a warning, the lesser of two possible sanctions, because of its financial problems.
As for NSU's graduation rate, which is the lowest among Virginia's four-year public colleges, Moore said NSU needs to look more closely at why students drop out. He said about 300 of last year's freshmen did not return this year, but only half were in poor academic standing. He said he suspects many left for financial reasons.
Moore said he hopes to boost NSU's enrollment by about 500 students, to roughly 7,000, and he said he believes NSU should maintain its role as an access school – "an institution of opportunity," he said for students who do not have the grades or money to go elsewhere.
He also hopes to play an active role in boosting fundraising, he said.
Moore said he has not spoken with Atwater because NSU's lawyers advised against it.
He said he has committed to stay at the university at least a year and a half, although he could remain longer. He said that will depend mostly on his family his wife and 13-year-old grandson, who has cerebral palsy and is cared for by his wife in Texas who decided not to relocate.