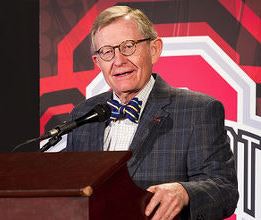 CHARLESTON, W.Va. ― A West Virginia University search committee on Friday did an about-face and endorsed interim President E. Gordon Gee for the job permanently.
The committee made the recommendation during an emergency meeting in Morgantown and now goes to the WVU Board of Governors.
It comes seven months after Gee retired from The Ohio State University after his critical remarks about Roman Catholics and Southeastern Conference schools were made public.
When President Jim Clements announced in November that he was leaving for Clemson, the WVU Board of Governors said the interim president wouldn't be in line to take over full time.
But James W. Dailey, the Board of Governors chairman who headed the search committee, said the committee "had a change of heart."
"Gordon Gee is absolutely, hands-down the very best person to be at the helm of West Virginia University at this important time and place in our history," Dailey said in a statement.
The Board of Governors now must approve the hiring and rescind a motion about Gee not being a candidate for the permanent job. The board issued a statement saying that it would meet Monday to consider the endorsement.
The 20-member search committee had received 31 applications or nominations for the job. Instead, it passed a motion asking the board to amend the search procedure and take the necessary steps to retain the 70-year-old Gee.
Gee, who also was West Virginia's president from 1981 to 1985, had intended to be around the Morgantown campus only until the summer.
"I am honored, energized and humbled by the Committee's recommendation today," said Gee, who didn't attend the search committee's meeting. "My return to West Virginia has reminded me of the special spirit of this university and the unique role it plays in this state. I am also reminded of the warmth and friendship of the people of West Virginia which have been demonstrated over the past few months in full measure."
After his December hiring, Gee said he didn't like the word 'interim' anyway.
"I think it signifies 'seat warmer,'" Gee said at the time. "I'm a guy who likes to get in and get to work and make a difference as much as I can."
Gee served two different stints at Ohio State, where he stumbled through a series of verbal missteps for which he had to issue apologies. He retired in July after he criticized Roman Catholics, Notre Dame and former Wisconsin football coach Bret Bielema, who now coaches Arkansas.
In those remarks, made in December 2012 to Ohio State's Athletic Council, Gee said Notre Dame was never invited to join the Big Ten because the school's religious leaders are not "good partners."
A Mormon, Gee also jokingly referred to "those damn Catholics," and lampooned the academic integrity of the University of Louisville and Southeastern Conference schools, singling out the University of Kentucky. He alleged that University of Wisconsin athletic director Barry Alvarez considered Bielema a "thug."
Gee also made mildly disparaging remarks about Alvarez and Big Ten Commissioner Jim Delany. And he laughingly suggested that someone would have to "shoot" Ohio State athletic director Gene Smith before Smith would allow the University of Cincinnati to join the Big Ten.
Even when he announced his retirement, he quipped at a hastily called news conference, "I've only got a month to ruin the university. I've got to get at it."
He also hinted back then he wanted to spend more time with his family.
Apparently, that family includes WVU.
"Countless people have urged us from day one to keep him," Dailey said. "He is truly a perfect fit for this institution. His knowledge of and experience in higher education circles is unmatched ― as is his national and international reputation."
A lot has changed since Gee became dean of WVU's law school in 1979, the year before the university's current football stadium opened.
WVU is in the midst of nearly $1 billion in construction projects on campus for its university health system and student housing. The university's vision for the year 2020 includes strengthening academic programs and expanding student diversity.
Around the time of his first WVU presidency, Gee ignored faculty warnings to dress the role and adopted what would become his signature style: pressed suits, suspenders, horn-rimmed glasses and bow ties, seemingly a new one every day.
During his first stint in Morgantown, the incorporation of WVU Hospitals led to the construction of Ruby Memorial Hospital on campus. The WVU Research Corp. was established and the WVU Foundation was restructured. Among the facilities built during his tenure were the College of Business and Economics and the College of Engineering and Mineral Resources.