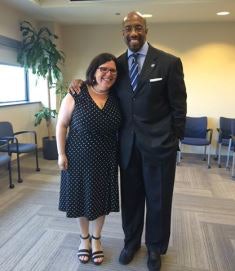 Michael J. Sorrell has the distinction of being both a college president and a college student.
Each month, the 47-year-old president of Paul Quinn College boards a plane in Dallas to make the three-and-a-half-hour commute to Philadelphia, where he's currently a doctoral student in the University of Pennsylvania's Executive Doctorate in Higher Education Management program.
Despite an impressive career as a lawyer in corporate America, Sorrell—who was tapped seven years ago to lead the historically Black college—came to the realization that, without an earned doctorate, his academic portfolio as a college president would be incomplete.
"My students need me to be a great college president," he says. "This degree will add value to my skills."
With the blessing of his board of trustees and his family, Sorrell has become a student yet again. And he is not alone.
Experts say that, over the past decade, the number of college presidents enrolling into doctoral programs has steadily increased, particularly as more colleges and universities look outside academia to find talented individuals to lead their struggling institutions.
For Sorrell, the decision to invest time and money into returning to the classroom was largely influenced by the sage advice offered to him by Dr. Freeman A. Hrabowski III, the prominent president of the University of Maryland Baltimore County.
Sorrell say that Hrabowski urged him to pursue the doctorate if he had any long-term plans of remaining in the academy. "He said, 'You're still in an industry that requires a certain validation. There will be people who look at that,'" Sorrell recalls.
"Michael Sorrell is such a bright leader with a great vision," says Hrabowski in an interview with Diverse. "I wanted him to have every possible opportunity to lead his institution and to think about broader opportunities in the future."
It's no surprise that Sorrell decided to enroll in Penn's executive doctorate in higher education program, which was founded in 2001 and is headquartered at one of the nation's most prestigious universities.
With an impressive graduation rate of about 90 percent and such super-star professors as Drs. Marybeth Gasman and Shaun Harper, the program's cohort-model is made up of 24 students, enabling mid to senior level leaders to earn the Ed.D. in two years without an interruption to their careers.
"The program provides exposure to key issues in higher education through a structured curriculum, requires students to conduct original research and produce a scholarly piece of work through their dissertation," says Dr. Eric Kaplan, who directs the program. "College presidents benefit from the theoretical and practical knowledge gained through course work and research, the exceptional faculty and the expertise of members of their cohort."
Unlike other programs that require students to complete all coursework before beginning work on their dissertation, Kaplan says that the executive doctorate enables students to simultaneously complete coursework while working on research that serves as the foundation for their dissertation.
Still, the challenge of balancing his studies with his administrative duties has been no small feat for Sorrell, who is married with a 4-year-old son.
"We are a family that places time on our togetherness," he says. "But the reason I can succeed at this is because I have an amazing wife."
Sorrell has made his return to graduate school an institutional journey and has called upon his seasoned faculty to help coach him through the process. "It's an incredibly demanding workload. I need the support, advice and wisdom from my faculty," he says. "I've been willing to be vulnerable and ask for help. This is outside of my comfort zone."
When Sorrell recently defended his dissertation proposal and advanced to the candidacy stage, Paul Quinn undergraduates took to social media to cheer him on.
"The students love it. They see me on campus on the weekends or visit my office late in the evenings and see me writing a paper. They laugh and tell me that they're proud I am doing well."
Sorrell says that there is an authenticity that comes from a shared struggle.
"Our institutional ethos at Paul Quinn College is 'we over me,'" he says. "So many of our students work; so I am not doing anything different from what most of our students are doing."
Gasman, Sorrell's dissertation adviser, says that his research, which focuses on small urban colleges, will make a significant contribution to the existing literature once he defends his dissertation and graduates next year.
"Mike is really smart and I think he's an excellent writer," says Gasman, who added that Sorrell is making key connections at Penn and among the 24 people in his cohort and in other classes that finished the accelerated program. "I'm hoping he will be a trendsetter."
Like Sorrell, Michael P. Schneider, president of McPherson College in Kansas, is also enrolled in the doctoral program at Penn.
Schneider, who became president of McPherson at the age of 34, came to higher education vis-à-vis the business world.
The program at Penn "is professional development on steroids," he says. "You get exposed to so many things in higher education. We are learning as much from our classmates as our faculty."
Schneider and Sorrell say that a college president needs the full support of his board before deciding to return to school. In the last 10 months, the two have individually written about 50 papers and have collaborated with other members of their cohort on a variety of group assignments.
"My board is supportive. They understand why this is important and they understand that it brings value to our institution," says Sorrell. "This is not easy. There was a much easier way to do this, but if you're going to do something, you should do the most rigorous program. I've always picked rigor over convenience."
Jamal Watson can be reached at jwatson1@diverseeducation.com. You can follow him on twitter @jamalericwatson