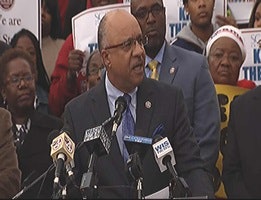 ORANGEBURG, S.C. — The trustees of financially troubled South Carolina State University stood behind embattled President Thomas Elzey on Thursday, even as legislators proposed ousting the entire board along with Elzey and allowing the school to furlough employees up to a month to cut costs.
Following a three-hour, closed-door meeting, Chairman William Small said the board will respect its contract with Elzey.
"Just as President Elzey inherited many of the current problems of the university, the present board also inherited these problems," Small read from a two-page statement. Legislators have replaced most of the board since 2013, when Elzey was hired.
It's been a tumultuous week for the state's only public historically Black university. The board convened the "emergency meeting" after leaders of the Legislative Black Caucus called on Elzey Wednesday to resign or be fired by the legislatively-elected board. Elzey refused. That no-confidence vote came on the heels of a House panel proposing to temporarily close S.C. State for a massive overhaul, with the intent to reopen a financially stable university in 2017.
Though two House panels advanced the proposal this week, senators have made it clear such a radical move stands no chance in their chamber. Senate Democrats put out a statement calling the idea "reckless and irresponsible." Still, the stunner reflects legislators' growing frustration over perceived ever-changing budget numbers and the lack of a concrete plan toward solvency.
Elzey said the school can't simply cut, because that would cause other problems, including fines and programs' loss of accreditation.
The university still owes at least $10 million on unpaid bills that date to 2013, despite a $6 million state bailout approved last spring and the first installment from a second bailout approved in December, which will eventually provide $12 million over three years.
S.C. State is digging out of a hole created by years of declining enrollment, along with a drop in state funding and federal changes that made many students ineligible for grants. Despite the shrinking revenue, the school continued to spend as if nothing had changed, Elzey has said.
The university claimed to have a balanced budget this school year, infuriating House members who note it "balances" only by excluding debt and by over-projecting student enrollment. Instead of increasing, enrollment has continued to decline to about 3,000 this semester—about 300 fewer than started the school year.
School officials blame negative publicity.
As the board met behind closed doors, the Senate unanimously approved a bill allowing the university to mandate employees take up to 20 days of unpaid leave before June 30. Elzey had sought the ability to furlough workers seven days, saying that would save about $1 million.
While officials don't expect to need all 20, the additional days provide the flexibility needed to save as many jobs as possible, Small said after the meeting.
Meanwhile, two House members introduced a bill that would remove all board members and temporarily put the university under the control of the state's financial oversight board, which would then fire Elzey and hire an interim replacement. Small said he knew nothing about that proposal but called it a "premature response to the situation."
"It is the misinformation and consistently changing information that caused all of us to be where we are today," said Rep. Kenny Bigham, R-Cayce, the main sponsor of that proposal. "It was his job to right the ship. He hasn't righted the ship in any way, shape or form. … We've got to do something. To do nothing, the school's going to go bankrupt."