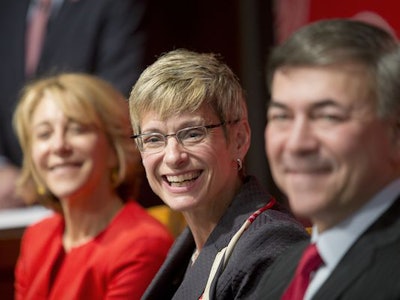 Cornell University President Elizabeth Garrett, the first woman to lead the Ivy League school in upstate New York, died Sunday of cancer less than a year after starting in the position, the university announced. She was 52.
Garrett had been undergoing treatment for colon cancer. She disclosed the diagnosis to the campus community on Feb. 8.
"There are few words to express the enormity of this loss," Robert S. Harrison, chairman of Cornell's board of trustees, said in a statement Monday. "Beth was simply a remarkable human being — a vibrant and passionate leader who devoted her life to the pursuit of knowledge and public service and had a profound, positive impact on the many lives that she touched."
Garrett came to Cornell after serving as provost at the University of Southern California. Cornell's 13th president, she was one of four women at the helm of the eight Ivy League schools. The other three are Christina H. Paxson of Brown University (who took office in 2012), Drew Gilpin Faust of Harvard University (2007) and Amy Gutmann of the University of Pennsylvania (2004).
Read the full story via The Washington Post: First Woman to Lead Cornell University Dies of Cancer Less Than a Year Into Tenure