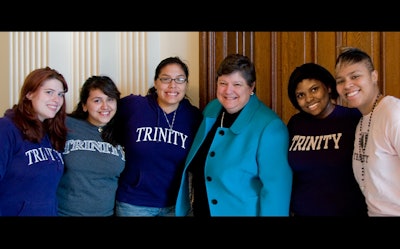 Unlike many college presidents, Patricia McGuire rarely hesitates to speak her mind on the issues of the day in higher education. If another college leader, for instance, likens struggling freshmen to bunnies who ought to be drowned or shot, the longtime president of Trinity Washington University will call him out.
McGuire did exactly that a few weeks ago after reports surfaced that Simon Newman, then president of Mount St. Mary's University in Maryland, had made such an analogy and then punished critics at the school who questioned his policy on student retention.
Read the full story via The Washington Post: Some college presidents seem afraid to speak out. Not this one.