Dr. Robert J. Jones, president of the State University of New York at Albany, has been selected to become the next chancellor of the University at Illinois at Urbana-Champaign.
Jones, 65, an agricultural researcher will become the first Black to lead the university's flagship campus when he assumes the position in October.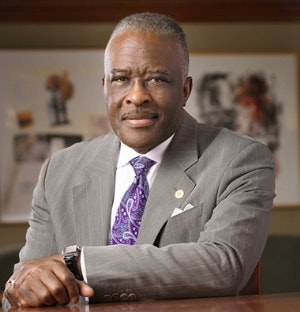 "This is my dream job," Jones said in a statement released by the University of Illinois. "Although I had planned to retire in this position, the opportunity to lead one of the most highly regarded land-grant institutions among America's public research universities and the flagship campus of the University of Illinois System is a once-in-a-lifetime opportunity," he added.
In appointing him to the top position, University of Illinois President Timothy Killeen said that Jones beat out more than 100 other applicants because he had the right experience and credentials to lead the public university forward.
"A distinguished scholar in the agricultural sciences, and a thoughtful and visionary leader in public higher education, with an exemplary record of accomplishment as a sitting university president for a research-intensive public university, he is simply ideally qualified to lead our institution into the future," Killeen said of Jones, who will also hold the title of vice president of the University of Illinois System, which also has universities in Chicago and Springfield.
Jones, who has led SUNY-Albany since 2013, spent 34 years at the University of Minnesota, where rose through the ranks and served as senior vice president for academic administration from 2004-2013.
Jones takes over the university following the resignation of Dr. Phyllis Wise last year, amid a controversial e-mail scandal that made national headlines.
Those who know and have worked with the Georgia native praised his temperament and his leadership style.
"President Jones has led the University at Albany with the highest level of distinction," said SUNY Board of Trustees Chairman H. Carl McCall. "He has been a champion of increased access for students through one of SUNY's strongest Educational Opportunity Programs; supported our continued commitment to economic impact and workforce development; and ensured a campus culture that prioritizes diversity, equity and inclusion."
University of Illinois is a member of the Big Ten, and has nearly 46,000 undergraduate and graduate students, 3,159 faculty and more than 11,400 employees. Jones will preside over a $2 billion budget and oversee 15 colleges and schools.
"I have the land-grant mission in my blood. I am a product of it," said Jones, who earned his Ph.D. in crop physiology from the University of Missouri, Columbia. "It is what brought me into higher education, from a sharecropping family in Georgia."
Jamal Eric Watson can be reached at jwatson1@diverseeducation.com. You can follow him on twitter @jamalericwatson