University of Texas at San Antonio President Ricardo Romo, the longest serving and first Hispanic president in the institution's 47-year history, has announced that he will retire at the conclusion of the spring 2017 academic semester.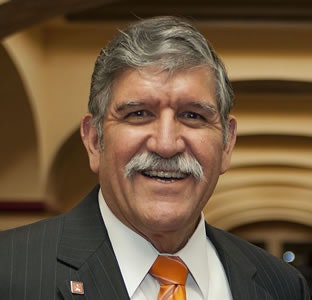 Romo, who joined UTSA in 1999, has led the university through a growth spurt that has resulted in more than 50 percent of all academic degrees awarded during his tenure than the previous 30 years.
"Ricardo Romo transformed UTSA into an emerging research university that graduates more students and offers more degrees and more opportunities than it did the day he walked into the President's office," said Texas Congressman Joaquin Castro. "He has made a profound difference."
Under Romo's guidance, the university has:
Expanded from four to nine colleges and grown from a commuter campus to a research institution.
Recorded 68 percent growth in enrollment, expansion of academic programs from 91 to 162 and doctoral program growth from 3 to 24.
Emerged as a leader for cybersecurity studies.
Increased its endowed faculty positions from seven to more than 70.
Recorded more than $202 million in philanthropic support to bolster student scholarships and faculty endowments in the university's first capital campaign.
"This is the right time to hand the reins of leadership to a new president, knowing there is a solid foundation of excellence in place and tremendous momentum that will keep UTSA moving forward," said Romo.
Following a one-year sabbatical, Romo will return to UTSA as a historian at the UTSA Institute of Texan Cultures. The UT System will begin a national search for a new president immediately.