Just as a partisan Congress has taken the first steps to undo health care for millions of Americans, a bipartisan effort is underway to help another group immediately endangered by the new administration: the undocumented students currently protected by the Deferred Action for Childhood Arrival (DACA) program.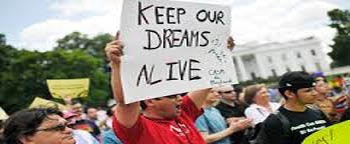 The new legislation, introduced by U.S. Reps. Mike Coffman, Colo., and Luis Gutierrez, Ill., on the House side, and in the Senate by U.S. Sens. Lindsey Graham, R-S.C., and Dick Durbin, D-Ill., aims to protect the estimated 750,000 young people under DACA who have been able to go to college, work and pay taxes.
Called the "Bar Removal of Individuals who Dream and Grow our Economy Act," or "BRIDGE Act," the law will give students temporary protection from deportation, and allow work permits to continue without interruption.
"Even the president-elect himself has said that something has to be done to help DREAMers, and I agree, because their fear should not overshadow their contributions," said Rep. Judy Chu, D-Calif., one of the original co-sponsors of the bill and leader of the Congressional Asian Pacific American Caucus. "Young immigrants that are already here and contributing deserve the chance to see and prove that hard work can make a difference."
While Trump has somewhat softened his stand on immigration, saying he would deport criminals first, the president-elect's campaign rhetoric spoke of the ease of eliminating President Obama's executive orders on the first day of a Trump administration.
DACA was placed into existence by executive order.
Already, the bipartisan effort to protect DACA has received backing by 88 CEOs from Illinois, Florida and Colorado who have sent a letter to President-Elect Trump urging him to spare DACA.
"DACA has allowed Dreamers to work in every industry and at nearly every single major company in America," the letter stated. "Six percent of DACA recipients have also launched businesses that employ native-born American citizens. Almost 55 percent of DACA recipients have purchased a vehicle, and more than one in ten — or 12 percent — have purchased their first home. … DACA recipients are proof that when undocumented immigrants are brought out of the shadows and legally enter the workforce, they contribute even more to our nation by paying taxes, purchasing homes and strengthening public safety and national security."
The letter to Trump was notably signed by a number of higher ed officials: the Rev. Dennis Holtschneider, president of DePaul University; Timothy Killeen, president, University of Illinois system; Donna Carroll, president, Dominican University; Alan Cramb, president, Illinois Institute of Technology; Robert Easter, former president, University of Illinois system; Mark Rosenberg, president, Florida International University; Doug Baker, president, Northern Illinois University; Dr. Eduardo Padrón, president, Miami Dade College; and Dr. Julio Frenk, president, University of Miami.
The new bipartisan legislation centered on DACA could help the new administration see immigration differently, as there is much broader support for the undocumented than Trump might think.
DREAMers are still very concerned about their future after Jan. 20. Trump's focus on immigration issues last week was more on his border wall idea. He mentioned again how Mexico will "reimburse" the United States, though Mexico has rejected that idea.
Instead of the wall, Trump should focus on BRIDGE — to keep the dream alive for undocumented students and workers.
Emil Guillermo is a veteran journalist and commentator. He writes for the civil rights group AALDEF at https://www.aaldef.org/blog/.