When the Board of Trustees of Morehouse College voted in January to not renew current Morehouse president Dr. John Silvanus Wilson's contract, faculty say that they were left with more questions than answers about the decision. After weeks of what some Morehouse faculty describe as an impasse in communications with the board and a series of revelations about the board's governance practices, faculty took a vote of no confidence in the board chair last Tuesday.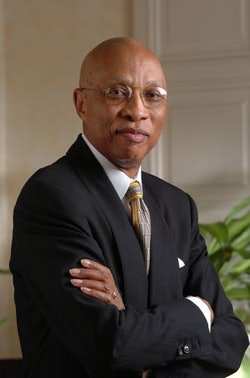 A Morehouse spokesperson confirmed on Monday evening that the vote had taken place, but directed requests for comment to a faculty representative, Dr. Ulrica Wilson.
Wilson, who is an associate professor of mathematics at the all-male, historically Black college in Atlanta, said that the vote of no confidence was a reflection of escalating faculty concerns regarding the board chair, Robert C. Davidson Jr.
"We're hoping to achieve a change in how the board operates," Wilson said on Monday.
Davidson was not available for comment.
Other faculty were unwilling to speak publicly about the vote of no confidence, but said that they had concerns about the board's governance style after viewing external assessment documents from entities tasked with evaluating the board. The documents, which have been circulating within the college, chronicle growing tensions between Wilson and Davidson over the years.
In the wake of the vote to not renew Wilson's contract, the board has provided few public explanations for the decision. Davidson sent out a statement following the January vote that focused on Wilson's achievements, saying that Wilson "turned around Morehouse in a number of ways."
Davidson was elected to the Board of Trustees in 1997 and became chair in 2011. He was chair when the board voted Wilson in as president. Wilson, who is a Morehouse alumnus, joined the institution in 2013. His contract will end in June.
Faculty also raised concerns with the board's decision to "excuse" student trustees from the January vote to not renew Wilson's contract. By barring student trustees from the proceedings, the board removed student and faculty voices from the decision, faculty say.
Despite their many concerns, that faculty would make an overt statement in the form of a vote of no confidence in the board chair was an unusual step, a Morehouse faculty member said under the condition of anonymity.
"I'm surprised, to be perfectly frank, that the vote passed," the faculty member said, adding that faculty typically chose to remain silent rather than contribute to a perception of internal turmoil.
The forces that pushed Wilson out are not unique to Morehouse, according to Dr. Marybeth Gasman. Morehouse is just one of 17 historically Black colleges and universities (HBCUs) in the midst of a leadership transition this year, and Wilson is one of several HBCU presidents who were abruptly voted out by their boards of trustees.
Gasman drew parallels between Wilson's experience and that of Dr. Gwendolyn Boyd at Alabama State University and Dr. Elmira Mangum at Florida A&M University. Their boards, despite generally positive reviews from faculty, staff and students, also abruptly voted out Boyd and Mangum.
She said that, in her experience, boards function most effectively when they attend to big-picture issues, leaving day-to-day management of the institution to presidents, administrators and faculty. Gasman serves on the Board of Trustees of Paul Quinn College, a historically Black college in Dallas, and is director of the Penn Center for Minority Serving Institutions.
"[Boards] have to know that their main job is to be promoting the institution, bringing in funding and setting larger policy agendas along with the input of the president," Gasman said. "They absolutely have to know that their job is not to micromanage day-to-day operations."
She noted that the college had numerous outside consultants come in to attempt to address the relationship between Davidson and Wilson, to no avail. "I've heard from faculty that they thought that John Wilson was a good leader, and that they think that the board chair overstepped his role," Gasman said.
According to Dr. Ivory Toldson, there is wide variation in board governance across HBCUs. In his former role as executive director of the White House Initiative on HBCUs, Toldson witnessed that variability personally. Toldson stepped down from the initiative in 2016 and is currently a professor at Howard University and director of the Quality Education for Minorities Network.
Given the wide variability in board governance styles and the relationship between presidents and board, Toldson cautioned against making sweeping generalizations.
"That being said, a lot of the times where I see problems between the way that the board and the university relate to each other, it's when the board seems rigidly focused on the president and are not really looking at the overall institution as a system," Toldson said.
In other words, instead of asking presidents to be all things to all people, boards should emphasize the strengths of the presidents. They should do this while also looking at college leadership as a structural issue, rather than something that falls to one person.
"If you have presidents that have strengths in one area, you need to structure the environment in ways that emphasize those strengths," Toldson said. "And if there are weaknesses, there are ways to compensate for those weaknesses through other positions and through other systems throughout the institution."
Catherine Morris can be reached at cmorris@diverseeducation.com.