Even while both of President Donald Trump's executive orders banning travel from six Muslim-majority nations have been stalled by federal district courts, the fear of a travel ban is already creating negative impacts for schools, according to a new friend of the court brief filed by 31 universities on Friday.
Citing the importance of international diversity, the brief outlined harmful effects that even the possibility of a travel ban is causing.
With many admission letters for fall 2017 already sent out in the past month, prospective international students are worried about whether they will be able to obtain visas in time for the upcoming term.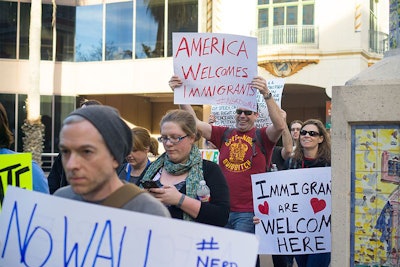 "Many of these students may choose to enroll in universities in other countries, rather than pursue their education in the United States," the brief states. "This problem affects not only prospective students but also faculty and scholars."
The brief mentions students from Iran admitted to different programs at Yale University and are now rethinking their options. At the University of Pennsylvania, three faculty recruits may have positions eliminated by the executive order.
The brief also says the travel ban harms current students and faculty on campuses because the executive order separates them from their family members living abroad.
"Students, faculty and scholars from countries affected by the Executive Orders and from many others are now hesitant to leave the United States, because they fear their re-entry may be barred or made more difficult by immigration authorities," the brief states.
"As a result, these individuals are deterred from conducting field research, attending academic conferences, or participating in international meetings in foreign nations; for some the hesitance to travel will force them to set aside projects that simply cannot be completed without travel abroad."
The amicus brief goes into the value of foreign students to a campus and the vetting that already goes on before students and scholars are granted visas.
However, it's clear that, after reading the brief, students and scholars are caught in the Trump zeal to stop terrorism.
A travel ban may have sounded good and logical amongst a group of Steve Bannon wannabes. But it's just "extreme" lip service in the fight against terrorism.
There is no guarantee that ISIS will be stopped by a travel ban. But it is certain that much good will be curtailed by the ban's disruption of academic research and collaboration.
After the first travel ban was halted by the state of Washington, the Trump administration trumped that with a second iteration. But that too was stopped by a federal court in Hawaii and again by a federal court in Maryland.
The Justice Department has now appealed both. The Hawaii court's ruling will be appealed in the U.S. Court of Appeals for the 9th Circuit in San Francisco. The Maryland ruling will be appealed in the U.S. Court of Appeals for the 4th Circuit in Richmond, Virginia.
The universities' amicus brief was filed in the 4th Circuit.
The 31 universities include: Boston University, Brandeis University, Brown University, Bucknell University, Carnegie-Mellon University, Case Western Reserve University, Columbia University, Cornell University, Dartmouth College, Duke University, Emory University, George Washington University, Georgetown University, Harvard University, Johns Hopkins University, Massachusetts Institute of Technology, Middlebury University, Northeastern University, Northwestern University, Princeton University, Rice University, Stanford University, Tufts University, the University of Chicago, the University of Michigan, Pennsylvania University, the University of Southern California, Vanderbilt University, Washington University, Worcester Polytechnic Institute, and Yale University.
Emil Guillermo is a journalist and commentator. He writes for the civil rights group AALDEF at http://www.aaldef.org/blog.