A period of apparent unrest at Morehouse College continues after faculty took a vote of no confidence in the board of trustee's chairman, Robert C. Davidson Jr. on March 21. Faculty took the vote in response to board governance practices brought to light after the board voted in January to not renew current Morehouse President Dr. John Silvanus Wilson's contract. Wilson, who served as president for four years, is set to step down on June 30.
The Southern Association of Colleges and Schools (SACS) weighed in on Monday to say that they would be investigating Morehouse in light of recent media attention and the vote of no confidence.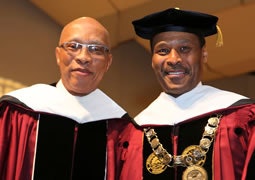 Dr. Belle S. Wheelan, SACS president, could not be reached for comment on Monday evening, but reportedly has said that an investigation is underway to ensure that Morehouse is in compliance with SAC practices
Until Monday evening, the board of trustees did not respond to requests for comment regarding the faculty vote of no confidence — a silence the board finally broke in an emailed statement sent to Diverse.
"The Board of Trustees respects and appreciates the views expressed by members of the Morehouse Community and we recognize that organizational change can be difficult for all those involved," the board stated. "However, we are very disappointed by the counterproductive behavior that certain members of the Morehouse Community have recently exhibited over the Board's decisive decision to not renew President Wilson's contract when it expires on June 30th."
The board of trustees added that leaked internal documents and "false reporting" would diminish the college's brand "during one of the greatest times of celebration in the College's history." Morehouse is celebrating its sesquicentennial this year.
Faculty, who asked to remain anonymous, told Diverse in multiple interviews that they believe that the real reason the board voted not to renew Wilson's contract was due to a personal conflict between the president and the board chairman. They pointed to several assessments conducted by external entities, including the Association of Governing Boards, which found the relationship between the chairman and president to be damaging and unsustainable. Faculty maintain that power within the board appears to be concentrated in the hands of a small executive committee dominated by Davidson.
Alluding to the January vote not to renew Wilson's contract, the board wrote: "In January, the Board voted in an overwhelming majority to invest in a new future for Morehouse College. It is important to note that the Board's decision was made after a long and comprehensive review process which weighed a myriad of factors beyond mere conflicts of personality."
Board members were not available for further comment and the statement did not address the upcoming SACS investigation.
Faculty were unwilling to comment publicly about the situation on Monday evening, but said that members of the faculty met with Wheelan last week to discuss their concerns with board governance. They added that they are hoping to achieve a reform of the board of trustee's bylaws and practices. Davidson will reportedly meet with faculty this Friday.
Staff writer Catherine Morris can be reached at cmorris@diverseeducation.com.