Ann Coulter should have made news this week.
By making it last week, she actually helped obscure a real news story when a state audit revealed that the University of California had a hidden surplus of $175 million.
More on that, but first the publicity hog, Coulter.
Coulter actually should have been speaking this week at the University of California (UC) as part of a compromise to enable her to exercise her free speech rights at a time and place when the university could secure her safety.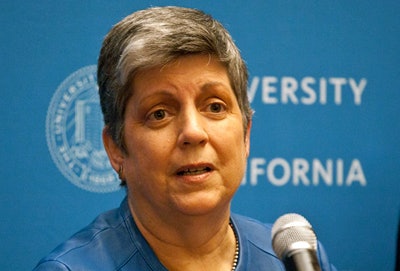 Coulter declined and chose instead to make a free speech ruckus in the news, which was always her aim in the first place.
Ordinarily, a Coulter speaking engagement would have had all the news value of a garden club talk — even at $20,000 a pop.
However, add to it the appearance that her rights had been besmirched, and you have evolved a "fake news" event into something coverable by the Washington Post and others. It is a news story, but one where it helps to see through the lines.
This was a story totally manufactured by Coulter, her right-wing financial backers and the student group that even filed a lawsuit against the university.
They want to promote the idea that campuses are fraught with censorship, that good old PC run amok is the bane of America's existence. Just like the 1960s, blame it on the left-wing fascists, of course, and that liberal agenda.
Coulter and her ilk need the "fake news" of trouble on campus to keep them in the public eye as champions of oppressed alt-right "patriots."
Of course, nothing could be further from the truth. There is no conspiracy to silence anyone.
Last week, UC showed a will to protect the speaker's free speech, and those of any innocent participants from unruly protestors.
For that, UC should be commended.
Coulter could have spoken on May 2 during "break period," which is actually study time for finals. Students are still around. In addition, if she were important enough, more people would actually be available to see her. May 2 was actually a good option for everyone.
But not for maximum troublemaking.
As I've said, Coulter had no interest in speaking to students, only in making her right-wing point by any means necessary.
It did work out for Berkeley though, as we discovered it actually has the money to pay for extreme private security — if it wants.
An official state audit of the UC Office of the President (UCOP) found the UCOP had $175 million in budget reserve funds.
The auditor also found that the top-ranking president's office employees earned a combined $2.5 million more than the maximum annual salaries for comparable state workers.
On top of that, at least $21.6 million were spent on employee benefits, an amount the auditor found atypical of the public sector.
Chalk it up to ivory tower perks?
Well, it's a big deal when UC has recently advocated for a tuition hike.
As Lt. Gov. Gavin Newsom tweeted: "It is unjust to force tuition hikes while the UC hides secret funds."
Newsom wants the tuition hike reversed. In addition, some state legislators are asking that the surplus monies, originally collected from all the UC campuses, be returned to their respective schools to be spent on students.
In a statement, the UC President Janet Napolitano office said the $175 million is wrong.
"The true amount is $38 million, which is roughly 10 percent of UCOP's operating and administrative budget, a prudent and reasonable amount for unexpected expenses such as cybersecurity threat response and emerging issues like increased support for undocumented students and efforts to prevent sexual violence and sexual harassment," the statement read.
All good goals, but it's not enough to say, "It's just $38 million, not $175 million."
It's hardly adequate.
However, the president's office has done the next step, called for a committee to look into it. That's what bureaucracies do.
What taxpayers do is say you cannot sequester tens of millions of dollars away, in public funds, even if it's somewhat specified and not just simply a rainy day fund. The legislature and the public need to be aware of it all, especially if there's talk of a tuition hike.
The UCOP may justify its actions by saying the UC system must maintain some autonomy, and that the funds are actually earmarked for important goals. However, it shouldn't take a state audit to discover there's more money in the pot than anyone thought.
When you're dealing with public monies, transparency should never be compromised.
That's worth protecting more than Ann Coulter's $20,000 fake free speech.
Emil Guillermo is a veteran journalist and commentator who writes for the civil rights group, AALDEF, at http://www.aaldef.org/blog.