Tuskegee University—the private historically Black college in Alabama that was founded by Booker T. Washington—is no longer under an accreditation warning by the Southern Association of Colleges and Schools Commission on Colleges.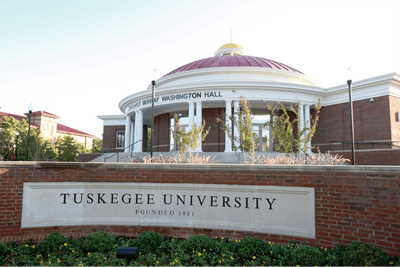 SACSCOC, the  regional accrediting organization that works with colleges in southern states to award associate, bachelor, master's or doctoral degrees, lifted the warning that it placed on Tuskegee in 2015 for multiple citations of non-compliance with requirements established by SACSCOC.
Warnings are given to institutions for a number of reasons ranging from financial to academic. Tuskegee's citations were for fiscal stability, financial aid audits, and student learning outcome assessments.
Removing the warning means that the school is no longer at risk of losing its accreditation, which could happen after an institution has received a warning and is placed on probation.
The news of the warning lift comes in the wake of the decision by Tuskegee's board of trustees to part ways with its current president, Dr. Brian L. Johnson, when his contract expires at the end of the month.
Johnson was appointed in 2014, a year before the school received the warning, but sources at the university have said that the problems have persisted for some time.
Dr. Charlotte P. Morris, who previously served as interim president in 2010, will assume the top post on July 1.
"I look forward in my capacity as interim president to continue progress toward achieving the goals of the university's five-year strategic plan, which our trustees adopted in 2015," Morris said. "Our team of administrators, faculty and staff remain committed to continuing our strategic focus on creating a student-centered culture, integrating modern academic approaches, managing resources effectively, increasing enrollment, and expanding private philanthropy."
Johnson, who is currently a candidate for the presidency at North Carolina Central University, said that the decision by SACSCOC is a step in the right direction.
"The institution is on the footing with the new strategic plan and new 10-year campus master plan and operating surplus," said Johnson.  "With this accreditation warning off its back, [Tuskegee] will begin operating in a 21st century higher education new era of accountability and transparency."
Gia Savage can be reached at gsavage@diverseeducation.com.  You can follow her on Twitter @giaTHEsavage