Dr. Tashni-Ann Dubroy, who is currently the president of Shaw University, has resigned from her post to become the executive vice president and chief operating officer at Howard University.
"Howard is the Mecca for a myriad of reasons, but to me, it resonates as the blueprint for aspirational leadership in teaching, learning, and developing within the scope of building at-risk and underserved communities," said Dubroy in an interview with Diverse. "The challenge of joining a larger institution with added academic and financial complexities provides an opportunity to stretch my talent in an innovative academic setting."
Her decision to join the administration at Howard comes just two years after she was named the 17th president of Shaw, the historically Black university located in Raleigh, North Carolina.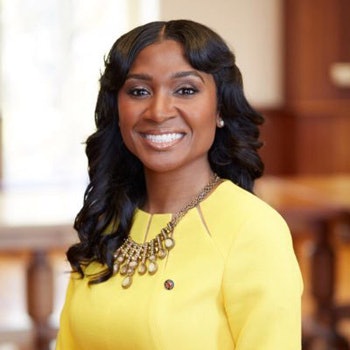 "My service to alma mater is one that I will always treasure," Dubroy said in a statement to Shaw alumni published on the Spectrum News website. "Together, we have accomplished so many remarkable outcomes in a short space of time. The University is poised for future success with a capable leadership team. I have had the opportunity to work with some of the finest administrators, faculty and staff during my tenure."
Dubroy, a native of Jamaica, is the second youngest person to serve as president of Shaw, having been appointed at the age of 34. She is also the third woman to lead the 151-year-old institution.
Prominently known for her work as a fierce advocate for the university, she received high marks for her ability to raise funds and help bring national visibility to the campus.
A chemist-turned-entrepreneur, Dubroy graduated from Shaw University in 2002 and went on to earn a doctorate in 2007 from North Carolina State University. She also has an MBA from Rutgers University. Her entrepreneurial experience comes from working in cosmetic chemistry and co-founding a hair care line called Tea and Honey Blends.
Prior to becoming president of Shaw, Dubroy was an associate professor of chemistry, eventually rising through the ranks to become the department chair of Natural Sciences and Mathematics.
Later, she was appointed special assistant to the president and was responsible for increasing efficiency and reducing costs at the university.
She said that her time at Shaw resulted in a wide-range of reforms.
"We effectively reversed six consecutive years of enrollment declines and yielded a 15 percent increase of new and returning students in 2015," Dubroy said in the Spectrum News statement. "That same year, the administration closed a $4 million fundraising gap which included an institutional record of $630,000 raised during Shaw's annual homecoming weekend, earned a positive change in net assets to counteract a two-year loss."
Chris Hailey, president of the Shaw University alumni chapter in Charlotte, N.C., told Diverse that he was pleased with Dubroy's overall leadership.
"She was a very young and progressive leader that was very good for the university," said Hailey, who graduated from Shaw in 1986. "She was definitely taking the university in a positive direction that it hasn't seen in years. She will be greatly missed."
Gia Savage can be reached at gsavage@diverseeducation.com