The Rev. Dr. Calvin O. Butts III, the longest-serving president of SUNY Old Westbury and pastor of the historic Abyssinian Baptist Church in Harlem, has recently announced his retirement, effective the spring semester of 2020.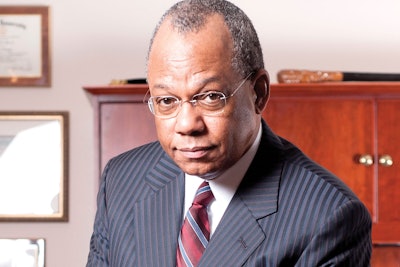 "It's just time. Twenty years in a college presidency is a long time," said Butts. "It's been a joy, and it's been a joy to be part of the state university system."
Butts, 69, said he will go on study leave during the spring 2020 semester and will no longer be responsible for the college's daily operations. He has plans to be a professor beginning the fall 2020 semester, and will likely teach in the American studies department.
Butts is "an inspirational leader for SUNY Old Westbury's campus and the entire system, serving a monumental 20 years in this role," said SUNY chancellor Kristina M. Johnson. "As a strong advocate for access to an affordable, high-quality education, he will leave behind a lasting legacy that will live on at the campus."
Under Butts' two decades of leadership, SUNY Old Westbury experienced transformative change, such as earning accreditation from the National Council for Accreditation of Teacher Education and established its inaugural graduate programs, which today include degrees in accounting, adolescence education, childhood special education, literacy education, forensic accounting and taxation, according to Newsday.
"He ran a school for decades that excelled. He did this while pastoring a historical black church, all at the same time," said The Rev. Al Sharpton in an interview. "He had the ability to master all of that because he is a man of unusual strength and gifts. And I say all of this even though he and I publicly disagreed sometimes. … He is one with an equilibrium that made the work he did seem simple when for anyone else it would have been insurmountable."
Butts earned a bachelor's degree in philosophy from Morehouse College, a master of divinity degree in church history from Union Theological Seminary and a doctor of ministry in church and public policy from Drew University.