In his first State of the Union address, President Joe Biden called for sweeping higher education reforms, including the doubling of the Pell Grant.
During his speech on Tuesday night, Biden noted that over 6 million students depend on Pell Grants to finance their education but noted that the amount of money in these grants have not kept pace with the rising cost of a college education. Biden called on Congress to increase the maximum grant by more than $2,000.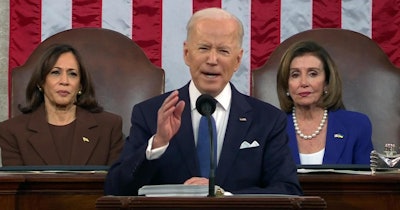 Biden also pledged continued support for community colleges and the nation's Historically Black colleges and universities (HBCUs.)
His remarks were greeted with enthusiasm by the nation's most prominent HBCU advocacy organization. 
"This is a continuation of our shared goals," said Dr. Michael L. Lomax, president and CEO of the United Negro College Fund (UNCF). "We have worked with this White House, even before they moved in, to formulate these asks. I applaud the president for including both HBCUs and a Pell Grant increase in his State of the Union address, and I hope both items will be championed by both sides of the aisle."
"This is historic," said Lodriguez V. Murray, senior vice president for public policy and government affairs at UNCF. "For the president of the United States to not only mention HBCUs in his State of the Union address, but to call for increased funding along with joining our effort to increase, and hopefully soon double the Pell Grant, is something we cannot help but be excited about.
"It is rare in Washington for a leader to stand by priorities. It is rarer for HBCUs to be that priority," Murray said. "President Biden is really showing that he stands with students from vulnerable backgrounds and the institutions that best serve their needs, and those are HBCUs. UNCF hopes Congress will pass the FY 2022 appropriations bills at the highest levels for HBCUs and the Pell Grant, and then let's do even better in FY 2023."
Earlier this month, Lomax penned a letter to ranking members of the Senat and House of Representatives Appropriations committee, encouraging the final passage of the 12 Fiscal Year 2022 appropriations bills prior to the deadline of March 11, 2022.
"Among the myriad of departments, programs, and initiatives that the bills will address, there are some which most impact the students from the fragile socio-economic backgrounds and the institutions which are the highest performing at educating them," wrote Lomax. "While impacting those populations is a high priority for UNCF (United Negro College Fund), we believe they are also a main concern for you."
Lomax called for funding legislation "to support our priorities at the highest possible level," including raising the Pell Grant award to $6,895.
Other higher education organizations also praised Biden.  
"Increasing the maximum Pell Grant award by $2,000 would help millions of low-income students achieve their education and career goals," said Career Education Colleges and Universities (CECU) president and CEO, Dr. Jason Altmire. "An increase in the Pell Grant will help students like Desrine Prayer, who is a single parent working full time and studying to become a nurse. Ms. Prayer is one of the approximately 900,000 Pell Grant recipients attending a for-profit school who would benefit from an increase in the Pell Grant. We believe that all low-income students, including students attending for-profit schools, should be eligible for this increase. We join President Biden in calling on Congress to increase the Pell Grant."
Added Dr. Barbara K. Mistick, president of The National Association of Independent Colleges and Universities (NAICU).
"Throughout its nearly 50-year history, the Pell Grant has helped more than 80 million students access a higher education," she said, adding that over 80% of Americans support expanding the Pell Grant, including 77% of Republicans and 91% of Democrats. "We applaud President Biden for his continued support of both the Pell Grant and the nation's HBCUs, and for putting higher education front and center in his domestic policy agenda. These are critical investments in our students and our nation's future that will have a profound impact on our economic recovery from the pandemic."