The White House Initiative on Advancing Educational Equity, Excellence, and Economic Opportunity through Historically Black Colleges and Universities will host its annual national HBCU conference Sept. 20-23 in Washington, D.C.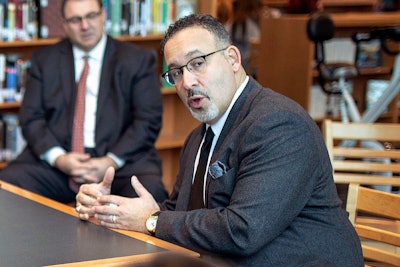 The conference will coincide with the celebration of National Historically Black Colleges and Universities Week. It will be held in-person for the first time since 2019, with more than 2,000 in-person participants and 1,500 virtual attendees, including HBCU presidents and chancellors, set to attend.
The conference – designed to provide practical solutions to barriers that HBCUs face – will give participants the opportunity to engage with leaders, such as Biden cabinet members, federal agency officials, private sector executives, and financial aid experts.
"HBCUs have a proud legacy of creating doors of opportunity where none previously existed and providing students of color with an education grounded in affirmation, inclusion, and excellence," said U.S. Secretary of Education Dr. Miguel A. Cardona. "This week is an opportunity for higher education leaders, federal officials, and private sector leaders and advocates to celebrate the contributions of our HBCUs and set the stage for even greater success. The Biden-Harris Administration will continue to champion bold investments in HBCUs so that they can expand their research capacity, prepare students for opportunities in today's most cutting-edge fields, ensure the safety of their campus communities, and continue raising the bar for equity, excellence, and inclusion."
More than 25 federal agencies will also be participating.
The Department of Education (ED) and its partners will give technical assistance for HBCUs on Project SERV applications and share best practices.
The conference will feature a hybrid career fair, with 126 employers, representing public and private sectors.