As the DACA program hangs by a thread, undocumented students represent an increasingly vulnerable population. On Wednesday, the Presidents' Alliance on Higher Education and Immigration, a collective of higher education leaders focused on the impact of immigration practices on campuses, brought together a panel to discuss how best to support these students, who represent 2% of all attendees of American colleges and universities.
The panel kicked off with a discussion of what undocumented students say that they need the most, based on a survey conducted this spring by thedream.us, an organization that provides scholarships for DREAMers to attend college. As might be expected, undocumented students' most urgent needs were monetary. Financial aid for school expenses was the top academic resource need, with 27% of respondents listing it, and emergency funds were the top personal wellness resource needed, with 30% of respondents mentioning it. Other common needs included increased check-ins with advisors, one-on-one counseling, and legal supports.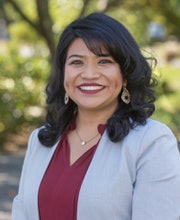 The survey also revealed that 59% of respondents were interested in graduate school. Graduate school takes money, but Ariana Aparicio Aguilar, a DACA recipient and Ph.D. student in higher education administration and policy at the University of California, Riverside who earned a master's in education from Harvard explained how she did it.
Aguilar tapped into a wide array of supports to fund her schooling. She was able to get a quarterly scholarship of $750 from UC-Riverside via the R'Dream Foundation based on her commitment to, and understanding of, the needs of the undocumented immigrant population. She was also able to obtain private scholarships from groups like the California Latino Legislative Caucus. Aguilar also created a GoFundMe, which raised about $20,000. In addition to that, Aguilar did fundraising events in her community, such as dinners with friends and family and donated venues and food.
Aguilar was also able to take advantage of a clinic at Harvard offering free legal services to refugees and immigrants, as well as a DACA Center at her undergraduate school Sonoma State, which had a full-time staff member, a position that she helped to create. However, not all undocumented students are as lucky.
Trisha Mazumder and Rachel E. Freeman-Wong of the UndocuScholars Project at the University of California, Los Angeles presented research about the prevalence of Undocumented Student Resource Centers at community colleges.
These resource centers can be critical for the success of undocumented students on college campuses. They serve as a visible symbol of support, a place to meet and share with other undocumented students, and one-stop shops to access resources. They often have staff who are undocumented and can offer advice about transferring to four-year institutions without putting themselves at risk and about work opportunities.
"This is what embodies safe spaces for folks," said Mazumder.
But the research found that there are only 30 such centers in the United States as of 2018, with 25 of them concentrated in California. The centers were often funded by temporary grants and run by part-time staff. More needs to be done, said Freeman-Wong, to increase the number of these centers and to make them permanent.
Panelists also shared resources that schools can use to better support their undocumented students whether or not they have a dedicated center. Luz Bertadillo Rodriguez and Maria Lopez Zamudio of the Presidents' Alliance described some of the online materials that are available. These include resources, advocacy tools, and best practices, guides for undocumented students and other undocumented people, information on creating fellowship and scholarship opportunities, models for the transfer process for two and four-year institutions, and a community of practice directory and network.
Tanya Cabrera, Assistant Vice Chancellor of Student Inclusion at the University of Illinois, Chicago, issued a broad call to action for those working with undocumented students. Undocumented student liasons must be present, she said, showing up for students and community, and must engage in self-care to prepare for the work ahead. They must establish task forces on immigration issues, to review policies and procedures. They must network nationally, sharing space and best practices with other student liasons. And they must advocate a pathway to citizenship for all, making the economic growth and positive impact that undocumented students can create obvious to legislators.
It was clear from the day's speakers that undocumented students will continue to face many challenges to achieving educational equity. But it was equally clear that there is plenty of energy and effort being put towards helping them succeed.
Jon Edelman can be reached at JEdelman@DiverseEducation.com.