Alejandro "Alex" Hernandez has officially been inaugurated as the 10th president of Champlain College.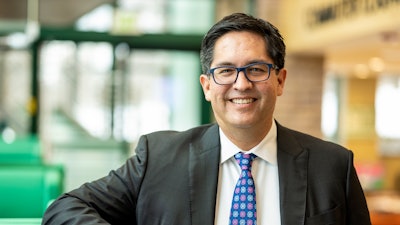 "Education creates opportunity, and I've dedicated my life to the idea that we can build institutions that get students READY, not by luck or privilege, but by design," Hernandez said.
During the 90-minute ceremony, Hernandez discussed four initiatives he is undertaking: an innovation hub with Hula to bolster entrepreneurship in Vermont; the Women in Cybersecurity Leadership Council to support women in the field; new degrees in science, technology, engineering, arts, and mathematics (STEAM) fields, such as product design, health, and the bio-life sciences; and a digital humanities major in Fall 2024 to teach skills for social challenges in the modern day.
Champlain's education model is designed to get students "ready for work, ready for life, ready to make a difference," Hernandez said.