A coalition of 225 organizations representing students, workers, and people of color have called on President Joe Biden to extend the federal student loan payment pause and to use every legal authority available to enact the debt relief.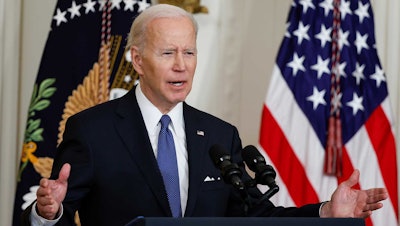 The payment pause will expire on Dec. 31, 2022, resuming federal student loan payments in the new year. Meanwhile, Biden's announced federal student loan debt relief program was blocked in November, leaving the initiative suspended and its applicants in limbo.
"In fewer than 45 days, as tens of millions of student loan borrowers remain closer than ever to historic debt relief, student loan payments are set to resume for the first time in nearly three years," the coalition wrote in a Nov. 21 letter to Biden. "This threatens to set borrowers back financially as our country grapples with the lasting effects of the COVID-19 pandemic, as our economy continues to experience the highest level of inflation in nearly four decades, and as government regulators sound alarms on rising levels of borrower distress."
The coalition is made up of national, state, and local groups, including: the American Civil Liberties Union; the American Federation of Teachers; the American Psychological Association; The Education Trust; The Hope Center for College, Community, and Justice; the Center for Economic Integrity; the Chicago Foundation for Women; and the Civil Service Bar Association.
"At the same time that student loan borrowers are facing financial catastrophe, a growing body of evidence shows that the companies contracted by the Department to assist borrowers in enrolling in the existing set of affordable repayment plans and navigating other student loan discharge options remain woefully unprepared for payments to resume," the letter wrote. "It is important to remember that these borrowers have student debt because the cost of college, a critical pathway to the middle class, has spiraled out of control. They also have this debt because past administrations routinely broke their promises to deliver affordable loan payments and debt relief. These borrowers deserve more than another broken promise."