Stephen F. Austin State University (SFA) will become part of the University of Texas System, The Texas Tribune reported.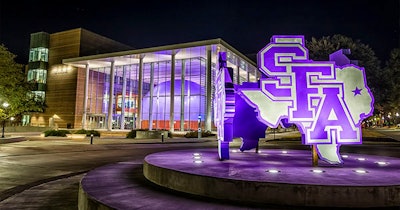 The SFA Board of Regents chose the Austin-based system from four in the state that had invited the school. Despite all four allowing the school to maintain its autonomy, name, mascot, and school colors, the UT System was the most attractive because of access to funding from the Permanent University Fund, which consists of assets created by oil and gas revenue from West Texas land that receive billions of dollars annually, board members said.
"Any other regional comprehensive university in the state would give its proverbial right arm to be in the position we're in today," said Regent David Alders. "Here, this slice of that pie is being presented to us on a silver platter. I believe it would represent a dramatic dereliction of our duty to not accept this invitation."
The Texas Legislature must approve the transition, expected to occur in next year's legislative session.
The UT System has said that it would immediately infuse $1 million more for annual scholarships and $5.5 million to boost faculty salaries. And according to a financial analysis, joining the system would provide $124 million in additional value.
"In 10 or 15 years if a name change occurs, I know that that possibility is greater than the others [systems]," said Robert Flores, the sole regent who voted against joining the UT System. "I heard too many people say, 'We do not want the name changed.' History has shown us it will."