Democrat Raphael G. Warnock has defeated Republican Herschel Walker in the Georgia Senate run-off election.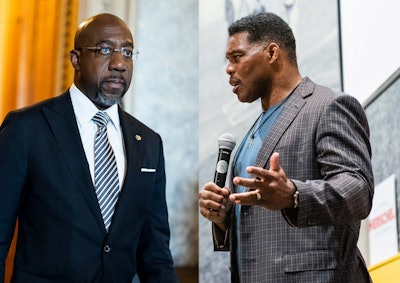 Warnock won with 51.4% of the vote, with Walker getting 48.6%. An estimated 3.5 million people voted in this runoff – 3.9 million ballots were cast in the general election.
"I'm proud of the bipartisan work I've done," Warnock said, "and I intend to do more because I actually believe that at the end of the day, we're all Americans."
He campaigned on Democratic priorities such as legislation to cap drug prices, promised to support abortion access, and appealed to independents and moderate Republicans.
Warnock's victory and reelection in the tight race for the increasingly purple state secures another seat for the Democratic Party's slim majority control in the Senate.
The defeat of Walker, a first-time candidate ridiculed for gaffes, accused of serious misconduct and elevated by former president Donald Trump, has spurred more calls to rethink the Republican Party's direction and strategy leading in 2024.