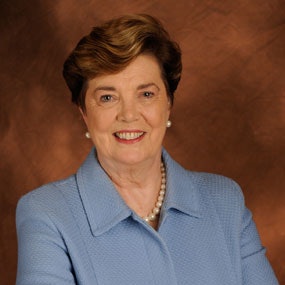 Molly Corbett Broad, former University of North Carolina (UNC) System president, has died on Jan. 2, 2023, at age 81. Broad was system president 1997-2005 and was also the first woman to lead the American Council on Education (ACE).
"Molly Corbett Broad was a trailblazer and a visionary," said UNC System President Peter Hans. "She came to North Carolina at a pivotal moment for our public universities, laying the groundwork for growth and progress across our state. She oversaw a historic $3.1 billion higher education bond and created the state's first need-based scholarship program, opening the doors of higher education to far more North Carolina students.
"She will be remembered as one of the giants of American higher education. I'm so grateful I had the opportunity to work alongside her, and grateful for all she did on behalf of North Carolina."
Broad was in charge of the system during a fast-paced time of enrollment growth, technological change, and capital expansion, said Brad Wilson, former chair of the UNC Board of Governors.
"Among her many accomplishments, she led the most successful higher education bond referendum in American history, yielding critical financial resources for faculty support and student success," Wilson said. "American higher education, and the UNC System in particular, are stronger and more effective in meeting the educational needs of students because of the unique talents and leadership of President Molly Broad. Her voice will be missed."
Broad held a baccalaureate degree in economics from Syracuse University and a master's degree from The Ohio State University.​​​