The U.S. Departments of Education (ED) and Justice (DOJ) remain committed and confident in the Biden-Harris administration's student debt relief program, filing a legal brief with the U.S. Supreme Court about it, according to a statement from Secretary of Education Dr. Miguel A. Cardona.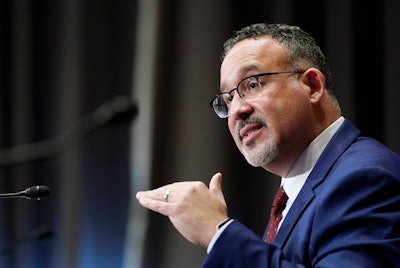 "The Biden-Harris Administration remains committed to fighting to deliver essential student debt relief to tens of millions of Americans. As part of this commitment, today the Departments of Education and Justice filed a legal brief with the Supreme Court explaining our legal authority under the Higher Education Relief Opportunities for Students Act to carry out our program of one-time, targeted debt relief," Cardona said in a statement. "We remain confident in our legal authority to adopt this program that will ensure the financial harms caused by the pandemic don't drive borrowers into delinquency and default. We are unapologetically committed to helping borrowers recover from the pandemic and providing working families with the breathing room they need to prepare for student loan payments to resume."
Student loan payments and interests will stay paused until the Court resolves the case.