Florida Gov. Ron DeSantis has appointed six new board members to the New College of Florida, a step towards turning the school into a more conservative institution, the Herald-Tribune reported.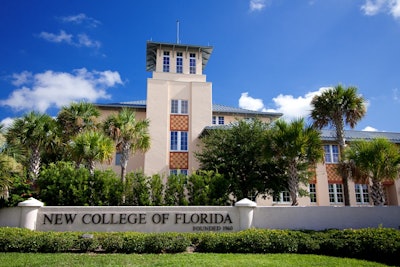 "It is our hope that New College of Florida will become Florida's classical college, more along the lines of a Hillsdale of the south," Florida Education Commissioner Manny Diaz, Jr., said in a statement, referring to conservative Hillsdale College.
The students and faculty at New College – a small school – have a reputation for leaning left politically, so a conservative turn may see resistance.
One of the six appointees is conservative activist Christopher Rufo, dean at Hillsdale and senior fellow at right-wing think tank The Claremont Institute. Rufo joined DeSantis when he signed the Parental Rights in Education Act, referred to by critics as the "Don't Say Gay" bill.
On Jan. 7, Rufo posted on Twitter that public universities have "been corrupted by woke nihilism," and that he is ready to transform higher ed from the inside. Rufo said his plans were to recruit faculty, restructure the administration and academic departments, develop a new core curriculum, and eliminate diversity, equity and inclusion (DEI) policies.
"My ambition is to help the new board majority transform New College into a classical liberal arts institution," Rufo said. "We are recapturing higher education."
Among the other appointees are Dr. Matthew Spalding, professor of constitutional government at Hillsdale College and former vice president of American studies at the conservative Heritage Foundation; and Dr. Charles Kesler, professor of government at Claremont McKenna College and a senior fellow at The Claremont Institute.
The members will serve five-year terms.
In recent years, the New College has been dealing with enrollment issues – it has approximately 700 students – and low rankings.
"The current model is not working," Bradenton State Rep. Will Robinson said. "I look forward to this fresh start with renewed hope that with the Governor's bold action the newly formed Board can tackle these serious enrollment and financial issues."
Dr. Andrew Gothard, president of the United Faculty of Florida union, criticized the move.
"Like many Floridians who have ties to the New College community, UFF (the United Faculty of Florida) was surprised and disturbed today to see the appointment of six trustees whose only apparent interest in the institution is politically and ideologically motivated," Gothard said in a statement.
He added: "Promises to upend programs with ideologically driven claims that could not be farther from the truth of what actually occurs in a higher education classroom — these do nothing to improve New College, nor will they draw interested students to a campus where trustees are so at odds with the faculty, the local administration and the truth."