The U.S. Department of Education (ED) has announced $63 million in grants to support 42 organizations and higher ed institutions working to expand existing community schools or establish new programs in eight states and territories.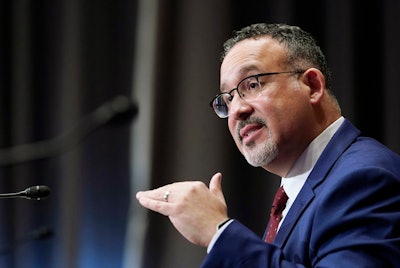 The five-year Full-Service Community Schools (FSCS) range anywhere from approximately $100,000 to $10,000,000. And the eight places where work will be done by this cohort are Alabama, Alaska, Louisiana, Maryland, New Mexico, Oklahoma, Tennessee, and Puerto Rico.
"Community Schools are an essential component of accelerating our students' learning and supporting their social, emotional, and mental health, and deepening community partnerships," said U.S. Secretary of Education Dr. Miguel A. Cardona. "At the height of the pandemic, community schools connected students and families with vital nutrition assistance, mental, physical, and other health services, and expanded learning opportunities. This work continues today because we know that students learn best when there is a comprehensive and holistic approach to meeting their needs."
The 42 recipients make up the largest cohort of grantees in program history, Cardona said, adding that it was significant progress towards the Biden-Harris Administration's goal of doubling Full-Service Community Schools in the U.S.
Community schools provide services to meet the needs of the students, families, and communities. And well-implemented community schools – with student supports, active family and community engagement, expanded learning time, and collaborative leadership practices – can result in improved student and school outcomes, particularly for students in high-poverty schools, according to research.
In addition to the grants, the White House also released a toolkit on how federal grant funding from other government agencies can be used to support implementation of this community school model.
ED has now awarded FSCS grants to a total of 20 states and territories.