The U.S. Department of Education (ED) has released a Dear Colleague Letter that calls on higher ed and school districts to bolster the number of college students supporting school-aged children and youth in K-12 schools and out-of-school time programs.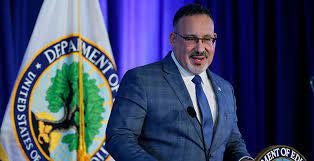 "Our colleges and universities have always been a driving force in solving America's greatest challenges; and, today, we're calling on these critical institutions to stand up once again by using Federal Work Study and other dollars to help accelerate learning and recovery in our K-12 schools," said U.S. Secretary of Education Dr. Miguel A. Cardona. "I applaud the 26 colleges and universities that are leading the way as early adopters of this effort by answering the call and partnering with the National Partnership for Student Success in this work.
"By serving as tutors and mentors, college students can make a positive difference in the lives of children and youth, and ultimately, it is in the best interests of our colleges and universities to help accelerate academic recovery in our public elementary and secondary schools. I'm hopeful that this initiative will inspire more college students of diverse backgrounds and income levels to consider careers as educators."
The letter asked schools receiving Federal Work Study (FWS) funds to set a goal of using at least 15% for community service in the next two years and to devote any increase in the use of FWS compensation for community service to employment in P-12 schools or out-of-school time programs in student support roles. Even if FWS money is not used, schools can participate by significantly increasing the number of college students in such roles.
The letter encouraged school and district leaders to partner with regional higher ed to get college students in these support roles in schools.
ED also announced the first cohort of 26 early adopter colleges and universities committed to using use FWS or other resources to raise the number of student tutors, mentors, success coaches, postsecondary transition coaches, or integrated support coordinators.
The 26 included schools such as Arizona State University; Howard University; Johns Hopkins University; University of Michigan; New York University; and the State University of New York System.