The University of Idaho is looking to acquire The University of Phoenix, the Idaho public university announced.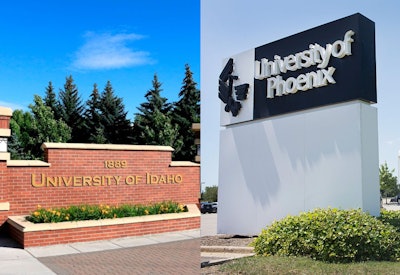 If University of Idaho moves forward with the approximately $550 million acquisition, the school would be establishing a nonprofit for University of Phoenix's assets. The purchase will be funded via bonds issued by the nonprofit. If approved by Idaho State Board of Education, the acquisition would be completed by early 2024.
University of Idaho's plans are similar to those of The University of Arkansas (UA) System, which looked to buy the controversial for-profit school before the deal was called off in April.
As part of the deal, University of Idaho will guarantee up to $10 million a year should the nonprofit fail to cover its debt payments.
In 2022, the Biden administration announced it would cancel $6 billion in student loans to those who say certain colleges, including University of Phoenix, defrauded them.