Some New York college campuses will be considered temporary housing sites as the state's public higher education system readies to lend a hand with the ongoing migrant situation, Spectrum News reported.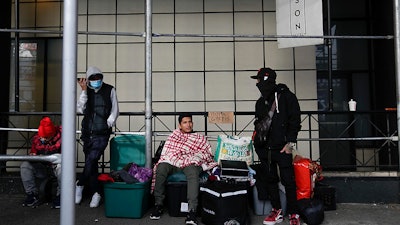 This potential remedy will be temporary given that dormitories will be back in use by students starting August.
New York Gov. Kathy Hochul has not yet named which specific campuses in particular will be used, but officials are considering campuses in Albany, Buffalo, and Stony Brook, Spectrum News reported. Hochul said that state properties, such as closed psychiatric centers and a hangar at John F. Kennedy International Airport, were candidates.
"This is a humanitarian crisis, and I think the governor has been clear that she rightly believes every institution needs to step up to help with this crisis," said State University of New York (SUNY) Chancellor Dr. John King.
The governor has also called on the Biden administration to hasten the working permit process for migrants with asylum seeker status, a Democrat-supported proposal that has not yet received approval from the federal government.
"I think there's a lot of longer-term solutions," said New York State Assembly Speaker Carl Heastie. "I think that would help, people can start to sustain themselves in this situation."
The act of housing migrants on campuses has been criticized by some.
"I'm fighting to stop Gov. Hochul from using schools and colleges as shelters for migrants," said Republican U.S. Rep. Marc Molinaro, who proposed a bill to block the move. "Upstate New York taxpayers pay thousands of dollars to support our public education system. SUNY college students pay thousands of dollars for room and board. Our schools are not shelters."