The U.S. Department of Education (ED) has released data on how many borrowers in each state are eligible for automatic loan relief under its recent fixes to Income-Driven Repayment (IDR) plans.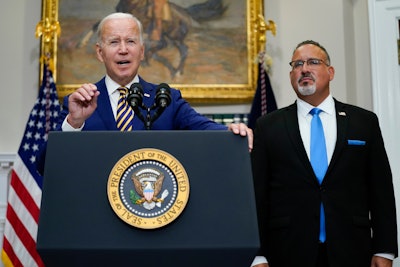 This comes as part of ED's effort this year to rectify past errors and make sure borrowers have accurate counts of monthly payments qualifying toward loan forgiveness. Previously, a number of qualifying payments made under IDR plans that should have moved borrowers closer to forgiveness were not accounted for.
The state-by-state data can be accessed here.
ED is currently in the process of notifying 804,000 borrowers of this development, informing them that their federal student loans will be automatically discharged in the coming weeks – a total of $39 billion.
"I have long said that college should be a ticket to the middle class - not a burden that weighs down on families for decades," President Biden said in a statement. "My Administration is delivering on that commitment. Starting today, over 800,000 student loan borrowers who have been repaying their loans for 20 years or more will see $39 billion of their loans discharged because of steps my Administration took to fix failures of the past. These borrowers will join the millions of people that my Administration has provided relief to over the past two years – resulting in over $116 billion in loan relief to over 3 million borrowers under my Administration."
Discharges will begin 30 days after notifications were sent. Borrowers will be notified by their loan servicer after their debt is discharged. ED will notify those who reach forgiveness thresholds every two months, until next year when borrowers not yet eligible for forgiveness will have payment counts updated.