Deferred Action for Childhood Arrivals (DACA)—the federal program created by former president Barack Obama to provide protections to undocumented immigrants who came to the United States as children—was ruled unlawful by a federal judge in Texas last week.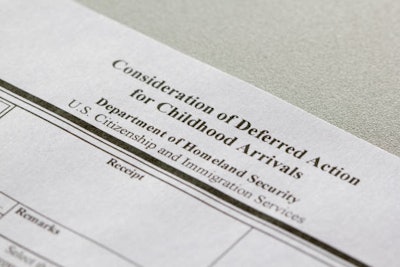 Judge Andrew Hanen of the Southern District of Texas determined that a Biden administration rule to codify the policy into a federal regulation violated the Administrative Procedure Act, which governs how agencies can make regulations. The ruling will not change the status of current beneficiaries of the program.
"To be clear, neither this order nor the accompanying supplemental injunction requires the [Department of Homeland Security] or the Department of Justice to take any immigration, deportation, or criminal action against any DACA recipient, applicant, or any other individual that would otherwise not be taken," the judge wrote.
DACA was created in 2012 by executive order after Congress could not come to an agreement on how to handle the cases of undocumented immigrants who were brought to the United States at young ages, known as Dreamers. It allows Dreamers protection from deportation and the ability to get a work permit. There were nearly 600,000 people enrolled in DACA at the end of March. A previous ruling by Hanen prevented the government from accepting new applications to join the program but allowed it to continue for those who are already enrolled.
The ruling was criticized by the American Association of State Colleges and Universities (AASCU), which described itself as "extremely disappointed."
"Many [DACA recipients] are or have been students at AASCU institutions," the organization said in a statement. "They currently serve in our armed forces, pay taxes, and hold countless important positions in our communities including teachers, counselors, lawyers, and nurses, among other occupations. They must be allowed to continue to live productive, safe, and fulfilling lives in the only country they have truly known."