The Biden-Harris Administration released final regulations aimed at cracking down on unaffordable debt or insufficient earnings for postsecondary students.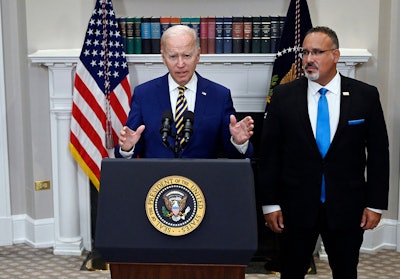 The final rule reveals a Gainful Employment (GE) rule, that administration officials say will protect approximately 700,000 students a year from career training and offers a new framework that it says will provide students detailed information about the cost of postsecondary programs and the financial outcomes associated with attending college.
"Today's final rules answer President Biden's call to hold colleges accountable for rising costs and protect students from unaffordable college debt," said U.S. Secretary of Education Dr. Miguel A. Cardona. "We are fixing a broken system and making sure that students know, before they take out loans, when college programs have a history of leaving graduates with high debts, low earnings, and poor career prospects. The Biden-Harris administration believes that when students invest in higher education, they should get a solid return on their investment and a greater shot at the American dream."
The Department has said that the measures will protect nearly 700,000 students annually who would otherwise enroll in one of nearly 1,700 low-performing programs.
"These protections are about ensuring career college programs live up to higher education's promise as a pathway to a better a life," said U.S. Department of Education Under Secretary James Kvaal. "Students overwhelmingly say that they're going to college to find a good job and build financial security, but too often their programs leave them no better off financially than those with no postsecondary education at all. These rules will stop taxpayer dollars from going to schools that continually saddle students with unaffordable debt. Separately, we're ensuring all students have increased information to make good choices."