MINNEAPOLIS—Amid the ongoing attacks to higher education, experts who study the field are gathering this week to debate and respond to the growing political challenges that have impacted colleges and universities.
The annual meeting of the Association for the Study of Higher Education (ASHE) has become the go-to place for practitioners looking to call attention to a wide-range of topics including academic freedom, campus sexual violence and the growing legislation against efforts to promote diversity, equity, inclusion and belonging on college campuses across the nation.
The current political climate has been worrisome for Dr. Sayvon Foster, an assistant professor of sports management, who is a first-time ASHE attendee. He fears that the attacks on diversity will likely increase as the 2024 presidential election grows nearer.
"I am definitely concerned, but that's why I wanted to be in this space," said Foster.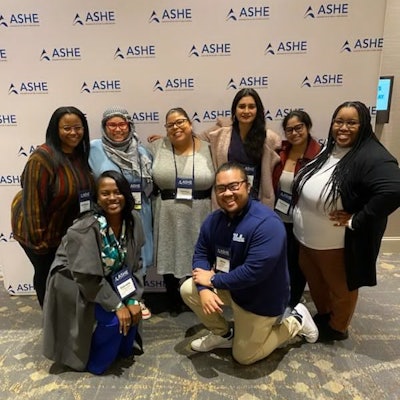 Networking, he said, with other scholars has provided him with the "due diligence that I am sending my students into the right spaces for graduate school where they are safe on campus and off."
Dr. Ana M. Martínez-Alemán, president of ASHE said that this year's conference is committed to interrogating purposes and practices within higher education.
"How can our empirical security address political forces that impact how we educate and serve students; or how we protect academic freedom or the livelihood of staff; or how we can inform legislation on access, affordability, and research integrity?" asked Martínez-Alemán, who is also an associate dean for faculty & academic affairs at Boston College.
During a rousing presidential address on Thursday, Martínez-Alemán asked participants to consider moving "beyond the predicable geography of our research and scholarship" and to "go into the neighbor's front yard and consider what you see there."
Such an interdisciplinary approach to learning is needed, experts say, to advancing equity in higher education and transform the educational landscape.
Oscar Miranda Tapia, a second-year doctoral student at North Carolina State University came to ASHE to share his research about undocumented students in North Carolina.
Tapia said that because North Carolina is a "very restrictive state" undocumented students face basic hurdles including obtaining a driver's license or paying for their college education.
"I am very much focused on research that speak to policy," said Tapia, who added that he has been inspired by the scholars that he has met at the annual meeting.
"It's really about the importance of relationships," he said of the association that will turn 50 in two years. "Being in a room full of Latino scholars is something that I am not use to seeing in North Carolina."
Dr. Franklin Soares, a senior relationship manager at the United Negro College Fund said that the conference has proved to be productive so far.
"It is more than I expected," said Soares, who also teaches at Louisiana State University and Southern University in Baton Rouge. "I am very big on resiliency research, HBCUs and mental health. There is something for everyone at this conference."