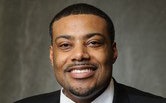 When Chauncey Cooper arrived at Howard University in 1935 as an instructor of pharmaceutical chemistry in the Department of Pharmacy, there was a total enrollment of 24 students, two full-time faculty, a part-time instructor and the dean.
Cooper noticed early setbacks that included a high failure rate on state board examinations and low enrollment numbers. This led to many graduates taking positions within the federal government to avoid the need for state licensure.
Due to several closures, Howard and Xavier University of Louisiana were the only two pharmacy programs at historically Black colleges and universities (HBCUs). In three years, Cooper was promoted to associate professor and named acting dean of the pharmacy program, and finally, dean in 1941.
Until his retirement in 1972, Cooper made great strides in pharmacy education. Cooper founded the National Pharmaceutical Association (NPhA), an organization dedicated to representing the views and ideals of minority pharmacists on critical issues affecting health care and pharmacy, as well as advancing the standards of pharmaceutical care among all practitioners.
Other minority leaders followed, including Ella P. Stewart, the first African-American woman graduate of the University of Pittsburgh College of Pharmacy and the first woman to practice with a license. Stewart owned a pharmacy with her pharmacist husband in Toledo, Ohio, that was also used as a community center.
In 1979, Mary Munson Runge was elected the first African-American and woman to serve as president of the American Pharmacists Association (APhA) at the time, representing some 60,000 pharmacists and students in the United States.
Several minority pharmacy professors have mentored students for over 50 years, including William B. Harrell at Texas Southern University, Robert Gibson at the University of California, San Francisco, and Kenneth R. Scott and Govind Kapadia, both at Howard University.
Delivering the keynote address at the 1977 APhA national meeting, Congresswoman Barbara Jordan of Texas stated, "I always wanted to be something unusual, I would never be content with being run-of-the-mill. I was thinking about being a pharmacist, but then I asked myself, 'Whoever heard of an outstanding pharmacist?'"
Later, a Texas congressman, Mickey Leland, a pharmacist, dedicated his life to ending global hunger and poverty. This past November, State Senator Leticia Van de Putte, a pharmacist from San Antonio, ran for lieutenant governor, the second-highest office in Texas. If anything, pharmacists and pharmacy educators are anything but run-of-the-mill.
Pharmacists are essential health care providers responsible for achieving positive health outcomes for all patients, regardless of background. Pharmacists today are placed in more diverse environments than in the past.
In contemporary practice, they need to possess knowledge and communication skills unprecedented in the history of pharmaceutical care. In many "medically underserved" communities (a term derived from the U.S. Department of Health and Human Services that includes such factors as the ratio of primary medical care physicians per 1,000 population, the infant mortality rate, the percentage of the population with incomes below the poverty level and the percentage of the population age 65 or over), the community pharmacist is spearheading wellness programs to assist patients with immunizations, diabetes, HIV/AIDS and cholesterol screenings.
The demographic composition of the United States is rapidly changing, indicating a pivotal shift of the minority population to majority. Ethnic minorities comprise an estimated 37 percent of the U.S. population, according to the U.S. Census Bureau, with the aggregate minority population projected to become the majority in 2042. In California, Texas and Florida, today's ethnic minorities are expected to reach a numerical majority soon.
The increasing numbers of minority persons should give rise to a new generation of pharmacist leaders to create social and political changes throughout society.
To produce the next generation of minority pharmacists and pharmacy educators, we must recruit more students into pharmaceutical programs. Howard and Xavier have continued to lead the path in producing minority pharmacists. Howard, the No. 1 producer of African-American Ph.D.s, has produced over 20 pharmaceutical sciences Ph.D. graduates since its program was re-established. In 2012, Howard graduates achieved a 100 percent first-time pass rate on the NAPLEX board exam. Xavier has produced 25 percent of the African-American pharmacists in the nation.
These are two of the 130 U.S.-based colleges and schools of pharmacy that are accredited (full or candidate status) according to the Accreditation Council for Pharmacy Education (ACPE). As of fall 2013, 71 colleges and schools offer graduate programs in the pharmaceutical sciences at the master's and/or Ph.D. level. Sixty-one percent women and 11.9 percent underrepresented minority students comprise the total number of students enrolled in first professional degree programs.
A solid investment in the promotion of diversity in pharmaceutical education is helpful to strengthen the pipeline and ensure the growth and enhancement of the pharmaceutical sciences for many years.
Often pharmacists are the most accessible health care professionals in underserved communities and, if included as part of a patient's coordinated care team, they can play a larger role in the delivery of quality, affordable and accessible community-based health care.
Dr. Henry North is an assistant professor of pharmaceutical sciences in the College of Pharmacy at Harding University in Searcy, Arkansas.