Whether you like him or not, here's what I know for sure.
Had the Rev. Al Sharpton not journeyed to Sanford, Fla., in the aftermath of the shooting death of 17-year-old Trayvon Martin, George Zimmerman — the so-called "neighborhood watchman" — would never have been prosecuted.
The death of Martin inspired a new wave of activism on college campuses, bringing Black, White, Asian, Latinx students together to put a spotlight on racial injustices.
There was international outrage and calls for the elimination of Florida's stand-your-ground law — which had protected Zimmerman — with groups like the Dream Defenders pledging to remain at the Florida Capitol until the law was repealed.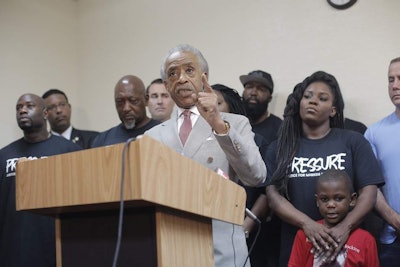 Fast forward six years later, and not only has stand-your-ground not been repealed, but it had been used yet again to provide sanctuary for Michael Drejka a 48-year-old man who shot Markeis McGlockton, a 28-year-old Black man, to death in Clearwater, Fla.
According to reports, Drejka— who is White — confronted McGlockton's girlfriend, Britany Jacobs, and their three young children who were parked in a handicapped spot outside of a store.
When McGlockton, who is Black, emerged from the store with his 5-year-old son, an argument between him and Drejka ensued. There was some shoving and then Drejka pulled out a handgun and shot McGlockton in the chest. McGlockton later died at the hospital.
Up until last week, Pinellas County Sheriff Bob Gualtieri declined to charge Drejka, operating like a prosecutor, judge and a jury.
In response, Sharpton rolled into town with civil rights attorney Benjamin Crump and single-handedly changed the outcome of the case. As thousands of angry residents crowded into the St. John Primitive Baptist Church two weeks ago, Sharpton buttonholed the Democratic candidates running for governor of Florida about whether they would work toward ending stand-your-ground. All five of the candidates, and attorney general candidate Sean Shaw, pledged to repeal the law if they were elected to office.
The candidates, along with Sharpton, also donated thousands of dollars to create a fund for McGlockton's children.
As Sharpton stood with Trayvon Martin's parents — Tracy Martin and Sybrina Fulton — at the church event, his most pointed criticism was directed at Gualtieri.
"Lock him up or give up your badge," the 63-year-old civil rights activist told Gualtieri amid a thunderous round of applause. "It's not the sheriff's job to determine whether stand your ground applies. That ought to be decided in a courtroom and the state attorney's office."
Gualtieri responded to Sharpton's criticism, telling the national civil rights leader to "Go back to New York. Mind your own business."
But the killing of young Black men, which has become all too common in our society, is our business and should concern us all.
Gualtieri's response was eerily reminiscent of the rhetoric of Jim Clark, the sheriff of Dallas County, Alabama who charged Dr. Martin Luther King, Jr., and other civil rights leaders with being "outside agitators" when they marched in Birmingham in the early 1960s.
"I came at the invitation of the family and literally thousands of people in his county," Sharpton said. "Additionally, five candidates for governor joined me because he did not take care of his business. It would not be necessary for me to do so if he took care of his own, and until he does I will keep coming to Clearwater."
By Monday afternoon it was clear that Sharpton's brand of activism had made the difference. Drejka was being booked into the Pinellas County Jail and was being held on a $100,000 bond. He was charged with manslaughter murder.
Crump, who represents McGlockton's family, said that the arrest "gives us a measure of hope that the truth will win and justice will prevail in the end."
Drejka's arrest is but a small victory. Like with the arrest of George Zimmerman—who was arrested but later acquitted for the murder of Trayvon Martin— the journey toward justice is often slow.
But there's no question that Sharpton helped to make the difference.
"Today's charges offer a ray of hope—but our work is not done," said Sharpton, adding that stand-your-ground creates a form of "vigilante justice that consistently provides cover to racists and bigots for murdering innocent Black Americans."
He's right.
Now, the challenge is for all of us who collectively believe in social justice, to work around-the-clock to take a stand against this senseless law.
Jamal Watson is the executive editor of Diverse: Issues In Higher Education. You can follow him on Twitter @jamalericwatson