Church folks know the phrase, "No plan, no promise." For academic faculty and staff at colleges and universities across the country, however, the call for a strategic plan can be more than a little wearying. A recent Wall Street Journal editorial writer lamented his university's plan as indistinct, ineffective, and overly corporate. Strategic plans, he argues, often come from administrators likely to leave their post in 3-6 years. That said and notwithstanding the prospect of endeavoring a hackneyed exercise, a strategic plan has advantages—the promise—well beyond the planning proposition itself: that of rallying around a collective process, that of organizational self-examination, and that of holding administrators publicly accountable. By accomplishing these objectives, such plans are ultimately good for inclusive excellence.
The School of Arts & Sciences at the University of Richmond, approaching its 30th anniversary in 2021, had never undertaken a comprehensive strategic planning process. Having met formally with almost 150 people by my second month on the job and having heard from scores of others informally, an index card of items that I wanted to accomplish as dean certainly existed. More than this, however, in January of 2017 I called together a planning group of almost two dozen faculty and staff, and a few students, over which I appointed a faculty lead. We added to the framework an independent survey of more than 500 faculty and staff, led by the Southeast Institute of Research. We held open forums for faculty, staff, and students. By doing all of this, we gained hundreds of years and tens of thousands of hours of collective experience. As is the case at many colleges and universities, faculty in the School of Arts & Sciences rightly desire a degree of transparency: insights into processes, clarity of goals, and clear accountability from leadership. No plan is perfect, but the school gained an opportunity to engage in a collective process. The outcome, Conceptualizing Arts & Sciences at Thirty (affectionately "Concept 30" or "C30"), sets a clear course and has become a rallying cry whenever the school's members propose ideas and initiatives.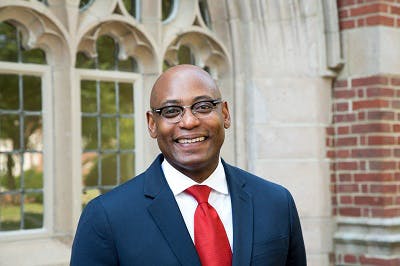 A number of proposed initiatives under Concept 30 had their origins years before the strategic plan, but some of them were not necessarily publicly tested. The process meant that they were now out there, for all to see. For example, we institutionalized an Integrated Inclusive Science program that has since been nationally recognized for its retention of underrepresented students in STEM, through cohort-based, project-oriented study. We shored up a suite of programs aimed at drawing more students to the arts and humanities, including a Humanities Fellowship for undergraduates. The fellowship is also cohort-based and focused on translating deep, academic inquiry into job skills that employers want, buttressed by a career services program called A&S NEXT. A $30M renovation of our arts facilities, which had already been planned, added energy. All of these initiatives, which fall under one of our four goals of Community, Curriculum, Creativity, and Conscience, are built upon a basis of shared academic governance. Here again, a task force on shared governance had already begun its work by January of 2017, but all agreed that a strong foundation, as itself a C30 objective, would support the house that we were building.
There are also many other positive accomplishments of Concept 30 and several new initiatives that sprung entirely from our process. We endeavored upon themed years. While the idea began in the humanities, we are making efforts to put the ampersand in "Arts & Sciences" to work, recognizing that the best ideas and approaches to contemporary problems are rooted in collaborative, creative work across academic disciplines. We are piloting a Sabbatical Fellowship, which gives faculty awardees a fully-paid, yearlong experience, based on the idea that cohort and accountability help in achieving academic and artistic goals, even when they are solo accomplishments.
As we come closer to our celebratory year in 2021, there is certainly much work ahead. Having an end on the horizon keeps us from feeling as though we are wandering in a desert. As we wrap up C30, redoubling our efforts to include students from Arts & Sciences' 22 departments and dozen-plus interdisciplinary programs will be important. We are trying to buck a national trend and upticks in business majors. To this end, we have a newly appointed group that will assess what we have done so far and bring the plan to completion. The continued, collective work is precisely the point. We are a more distinctive School of Arts & Sciences because of it. Rather than a leader's private index card, Conceptualizing Arts & Sciences at Thirty is a communal project shared by many. Having been able to lead such a planning process as the school's dean has been one of the highlights of this peripatetic administrator's public career.
The Promise: The process of Conceptualizing Arts & Sciences at Thirty echoed the University of Richmond's plan for Inclusive Excellence in significant ways. I will cite three, in closing. First, we needed to think in invitational terms about our community. To that end, each department in A&S crafted a first iteration of career profiles, in keeping with our Faculty Handbook recommendation. A practice now advocated at many institutions, such profiles act as blueprints— not a contract or fixed document—for faculty to be able to set their sights on achievable goals for promotion. Secondly, we laid out a staff engagement plan, involving our most vulnerable members in the planning process. Finally, the School hired its first Assistant Dean for Diversity, Inclusivity, and Thriving. No plan, no promise: Not perfection, but progress.
Patrice Rankine is the Dean of the School of Arts & Sciences and Professor of Classics at the University of Richmond.