"The most powerful argument against violence has been grounded in the notion that, when I do violence to another human being, I also do violence to myself, because my life is bound up with this other life." – Judith Butler, in a February 9, 2020 New Yorker interview
Within the higher ed community there are a lot of lists — rankings that in most cases, the higher the number the better. The University of Richmond, for example, is ranked by The Princeton Review as #2 for "Best Career Services" and #5 for "Most Beautiful Campus." These are titles we celebrate. In that same set of rankings, UR is ranked #4 for "Least Race/Class Interaction." It's one of the few lists on which we strive to be lower.
Recently on our campus a number of Black, Brown, and international students found racial slurs written on their dorm-room doors. In the aftermath, our community has begun to talk more openly than ever before about our experiences of racism, ethnocentrism, and xenophobia. News from colleges and universities across the country echo our stories. When these incidents occur, not only does the question of the limits of free speech ensue, but members of the community also want punishment for the offender. The code of Hammurabi, an "eye for an eye," seems fitting.
Although I understand the visceral reaction — the cry for justice — a harder but more impactful endeavor is to actively craft the community's contours and values. The reality is that while we are creating the positive, repeatable rituals and rhetoric that constructively shape community, there are always "barbarians" at the gate, real and imagined. Our fight is, quite literally, not against flesh and blood but one waged in the realm of ideas and values. That fight, moreover, is as much within as it is outside of us. If we look for an other on which to place the mark, the miasma, we repeat the same us/them, inside/outside language upon which the syntax of race, discrimination, and oppression is built. Rather, actively crafting the rituals and rhetoric of community means looking within ourselves for the stain, becoming the guilty Oedipus of our own dramas. Where have I shown bias and discriminated against others? How am I contributing to the problem? Or as Oedipus puts it, "sick as you are, not one is sick as I" (Trans. Robert Fagles).
It is difficult and counterintuitive to ask questions about the self when we have been attacked by another. The reality, however, is that how we craft ourselves, and our communities, is the only thing within our control. It is telling, for example, that the white supremacist stickers that appeared on campus in September 2019 (in another recent incident) were ultimately attributed to Patriot Front, a group with no official affiliation to the campus community. To Butler's point, these incidents provoke the violence already in us, if we react violently. Given this fact, the spotlight really shines not so much on the punishment of the offender, but rather on the conduct of the community. We must come to terms with who, what, and where we are.
Coming to terms with place means continuing to ask ourselves what kind of community we aspire to be. When we consider the recent incidents at UR, critical scholars and students of race — many on our own faculty at UR — teach us that we should have expected struggles in this particular place. Recently, for example, we affirmed that the university was built over a slave burial ground, in a city that had previously fought fervently for the continued captivity of Africans. Place, however, is not a curse or irredeemable stain. Place can become the scene of our own action, once we expiate the ghosts of the past, which are part of our collective memory. The guilty outcast Oedipus returns to Thebes as blind prophet of hope. If the chorus (which is community) joins him, that place can be transformed in light of its dreams and fantasies.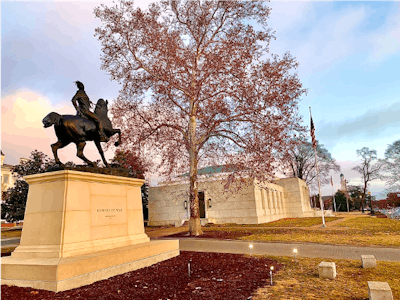 On a cold winter's morning in December, I jogged to the recently erected statue at the Virginia Museum of Fine Arts, "Rumors of War," by Kehinde Wiley. On this particular occasion, my eye framed the Afro-locked prophet on horseback alongside his counterpart, the building to the north, dedicated to the United Daughters of the Confederacy. Fierce defenders of the memory of their ancestors, the Daughters might well be my nemesis. As a member of this community, however, it behooves me to hear from these ghosts. I recognize their willfulness and determination in myself. Recognizing their gesture, I must create anew. This is what Wiley has done. Little might the Daughters have imagined that the Richmond community, through "Rumors of War," would place a monument that remembers otherwise, alongside theirs. Now free and victorious, the black horseman rides toward the ghosts of the past, who fought for his continuous enslavement. He looks, however, in the opposite direction, toward a different future.
Wiley teaches us that while it is harder to create than to destroy the creative force — love-power — is much more glorious, imaginative, and joyous than its opposite. Love-power also connects us, rather than causing disintegration into self and other. As Butler puts it, "If we were to rethink ourselves as social creatures who are fundamentally dependent upon one another — and there's no shame, no humiliation, no 'feminization' in that — I think that we would treat each other differently."
For the University of Richmond to become the love-force campus with the most interaction across difference, we cannot echo intolerance; we must see ourselves in others.
Patrice Rankine is Dean of the School of Arts & Sciences and Professor of Classics at the University of Richmond.