From music and poetry readings to lectures and community service events, colleges and universities nationwide are offering a plethora of ways for students and community members to commemorate the life and legacy of Rev. Dr. Martin Luther King Jr.
Making it "a day on … not a day off," Villanova University, Boston University (BU) and the University of Central Oklahoma (UCO) are just a few of the institutions hosting events to celebrate what would have been the legendary civil rights leader's 89th birthday. Boston University, where King earned a doctorate in theology, has held commemorative services for 46 years dating back to 1972, nearly a decade before the government recognized Martin Luther King Jr. Day as a federal holiday.
"We believe it's important to celebrate Dr. King's legacy because he is an alumnus of Boston University and because of the significant work he did in the Civil Rights Movement," said Katherine Cornetta, assistant to the dean of students at BU. This year's commemorative services will begin on Sunday, Jan. 14th with a sermon from Reverend Dr. Walter Earl Fluker, the Martin Luther King Jr. Professor of Ethical Leadership at BU School of Theology.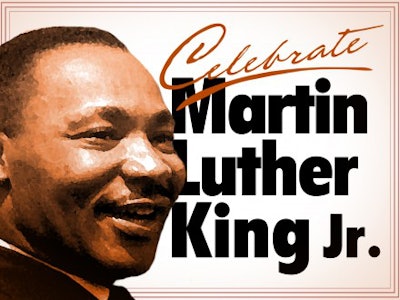 On Monday morning, the Boston Youth Symphony Orchestra, guests from the Smithsonian National Museum of African-American History and Culture and the City of Boston will join BU to celebrate King in the university's George Sherman Union Metcalf Ballroom. A "Words Beyond the Dream" event at 2 p.m. will follow with music, poetry and reflections on the "depth, power and ever-increasing relevance" of King's ideas beyond his "I Have A Dream" speech.
The inclusion of music and art in commemoration services at different institutions calls attention to the significance of music and ministry in King's work, said Cornetta, who also is coordinator of "Words Beyond the Dream." Poets Kamilah Aisha Moon and Danez Smith, the Inner Strength Gospel Choir, the School of Theology's Seminary Singers and BU Academy Jazz Ensemble will perform. Katherine Kennedy, director of the Howard Thurman Center for Common Ground at BU, will emcee the event.
Dr. King's undergraduate alma mater, Morehouse College in Atlanta, Ga., will start the King Weekend with a community interfaith candlelight vigil at the Martin Luther King Jr. International Chapel on campus at 6 p.m. Sunday. On Monday, the Bonner community service office will hold a "Day of Service" for students to volunteer at sites across the city beginning at 8 a.m. Speakers Dr. Lewis Baldwin, Marian Wright Edelman and Rev. Ernest Brooks will speak in Crown Forum and at other conversation series throughout the month, among other events.
"This year, we commemorate Dr. King 50 years after his death," said Vicki Crawford, executive director of the King Collection at Morehouse. "Because Morehouse played such a prominent role in the early formation of Dr. King's intellectual and ethical ideals, the national observance takes on even greater meaning for us at the College. As we reflect on his powerful legacy, it is quite apparent that the global leader remains as relevant today as during his lifetime. Now, more than ever, we honor Dr. King by strengthening our commitment to peace and justice in the world. At Morehouse, we embrace Dr. King's vision and values as we remain dedicated to the College's mission of educating young men of transformational leadership and service.
At Niagara University, civil rights icon Ruby Bridges will headline an MLK celebration, giving a keynote address Jan. 31. A series of events leading up to her address will start next week, including a Dr. Martin Luther King Jr. "Prayer and Reflection" and screenings of the films Marshall and Ruby Bridges.
Campuses will see other notable educators, activists and change agents during their King Day celebrations. Actor and philanthropist Hill Harper and Dr. Harry Edwards – notable for his creation of the Olympic Project for Human Rights leading to the Black Power salute in 1968 by athletes Tommie Smith and John Carlos – will speak at the University of Michigan in a keynote symposium and athletic town hall meeting, respectively.
MSNBC's Joy-Ann Reid will be the keynote speaker at Eastern Michigan University's 32nd annual Martin Luther King Jr. Celebration. The school also will host a commemorative march at the Martin Luther King Garden and statue near Boone and Welch Hall.
Some schools, such as High Point University in North Carolina and the University of California San Diego, will participate in Martin Luther King Jr. Day parades in their cities in addition to community service and worship festivities during the weekend.
In other parts of the country, community service days have become a primary means for schools to honor King's legacy and commitment to community-building, justice, peace and love. University of Central Oklahoma students will have the chance to volunteer at sites such as the Regional Food Bank, the Myriad Gardens and Free to Live. The University of Pennsylvania, the University of Washington, Villanova University and Florida A&M University each will host their own "Day of Service."
FAMU's day of service underscores the ideals of "volunteerism, social and civic activism and sincere service that was woven in the fabric of the incredible legacy of this civil rights icon and drum major for justice," said Carmen Cummings, senior executive director in the office of university engagement and alumni affairs.
The day also will include a convocation speech from attorney Benjamin L. Crump, a civil rights attorney known for representing the families of Trayvon Martin, Michael Brown and Tamir Rice. FAMU President Dr. Larry Robinson said the institution invites prolific speakers in Black history, human and civil rights to deliver its annual Rev. Dr. Martin Luther King Jr. Convocation address.
"Crump will reflect on King's famous 'Letter From Birmingham City Jail' and use the message to empower students and people of all ages to use their voices, social media networks and other means to follow in the footsteps of Dr. King and stand up for justice," Robinson said. "Crump is certainly a nationally renowned figure in terms of working on behalf of underserved communities. It speaks to the quality of our students due to the fact they are the ones who strongly advocated for him being our speaker."
This year's commemorative services are noteworthy because April will mark the 50th anniversary of King's death. Service organizers at BU said they feared that, as the years pass, younger generations of students might forget the important work and legacy of Dr. King – especially, Cornetta said, with more attention in recent years on his personal life.
"As people who were living in that time period who worked with [King] also pass away, we're losing a lot of that knowledge and history and we want to make sure that today's current college students…continue to recognize what important work Dr. King did," said Cornetta. "We really want a venue to talk about his work and his legacy and the lessons he was trying to teach us all…and take a moment and really draw people back to the important things about Dr. King."
The Association for American Colleges and Universities called for a National Day of Racial Healing immediately following the King Holiday. The organization encouraged universities to build on scheduled Martin Luther King Jr. Day events to engage their communities in efforts to "heal the wounds created by racial, ethnic and religious bias" and, in so doing, promote "an equitable and just society where all individuals can thrive."
Tiffany Pennamon can be reached at [email protected]. You can follow her on Twitter @tiffanypennamon.