The California State University system will soon require students to take an ethnic studies or social justice-related course before they graduate, a decision made by the board of trustees on June 22, against the backdrop of a national reckoning with racism.
The requirement will kick in starting in the 2023-24 academic year, a move university leaders couched as the first major change to the system's general education requirements in four decades.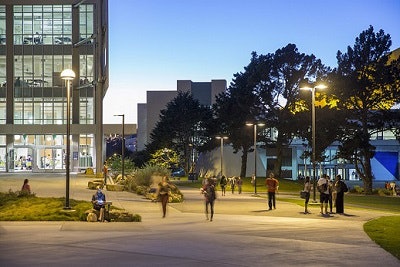 But ethnic studies scholars opposed the change. The problem: the requirement doesn't actually require an ethnic studies class.
It's like "cheese food" products, or spray cheese, said Dr. Kenneth P. Monteiro, chair of California State University's Council of Ethnic Studies and former dean of the College of Ethnic Studies at San Francisco State University. "There's no cheese in it, except the name," or only a trace to keep the labeling.
Three-credit classes that cover social justice themes, like racial disparities in public health, or that focus on marginalized groups, like LGBTQ, Jewish or Muslim communities, would qualify for the requirement. And while Monteiro values those disciplines, and sees them as outgrowths of ethnic studies, he said 18 out of 23 California State campuses already have some kind of general diversity requirement. So, the new one feels like a "Trojan horse."
This is "an old-school, omnibus diversity requirement such that any class that speaks about any kind of diversity … and has a justice tinge to it will go into those three credits," he added. "San Francisco State has had such a requirement for 40 years. So, this would've been cutting edge in the 1980s."
Dr. Timothy P. White, chancellor of the California State University system, described the new, system-wide mandatory course as a move that "lifts Ethnic Studies to a place of prominence in our curriculum, connects it with the voices and perspectives of other historically oppressed groups, and advances the field by applying the lens of social justice."
"It will empower our students to meet this moment in our nation's history, giving them the knowledge, broad perspectives and skills needed to solve society's most pressing problems," he said in a statement.
The requirement lies in contrast to AB 1460, a bill currently in the California legislature awaiting a signature from the governor. The bill would require students to take a course specifically in African American studies, Latinx studies, Native American studies or Asian American studies. It was drafted by California State Assembly member Dr. Shirley Weber, a former professor of Africana studies at San Diego State University.
Dr. Charles Toombs, president of the California Faculty Association and a professor of Africana Studies at San Diego State, supports the bill. He emphasized that ethnic studies is different from other disciplines and crucial in its own right, even if other departments offer similar sounding courses.
For example, a history class can teach about slavery, he said, but it might not center Black voices or delve into the ways slaves actively resisted oppression. It's also less likely to be taught by scholars of color.
After national anti-racism protests – amid a pandemic disproportionately hitting communities of color – making sure students are exposed to the field feels especially powerful for him.
"Ethnic studies courses are always about social justice," Toombs said. "… In the largest public university system in the country, our students should graduate equipped to deal with White supremacy culture, systemic racism and a different lens to approach the dismantling of those systems."
In addition to giving all students a toolkit for a multi-ethnic world, these disciplines also send a specific message to students of color, Monteiro noted.
"They spend K-12, they spend 12 years, being told that nothing of value came from their cultures," he said. "They're either told it directly or they're told it indirectly because, after 12 years, if teachers can't find anything about the contributions of my culture, I start to believe maybe I didn't have one." Ethnic studies courses tell students of color, "that's not true."
For some California State ethnic studies scholars, that's at the crux of what this battle is about – asserting that the intellectual traditions of communities of color have scholarly weight and value – which feels like an ongoing fight.
For example, the chancellor assembled a Task Force on the Advancement of Ethnic Studies that recommended an ethnic studies course requirement for the California State University system in 2016, but it was never enacted. So, the new requirement felt like a fresh disappointment.
"Ethnic studies has been sidelined and marginalized for years," Toombs said. "Ethnic studies faculty and faculty of color and students of color … we are part of the academy too. It's time for our voices to be listened to and that we be key players at the table."
Sara Weissman can be reached at sweissman@diverseeducation.com.