An Eastern Nazarene College dorm will provide emergency shelter for up to 58 families facing homelessness, including newly-arrived migrants, The Boston Herald reported.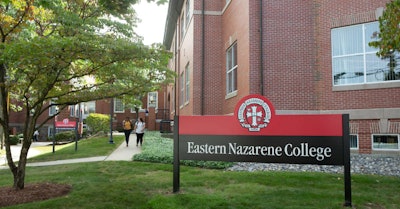 And a second "welcome center" in Quincy, Massachusetts – in the Cove Fine Arts Center on Eastern Nazarene's campus – will be a place to access state shelter and services, the Healey administration said. The goal for it is to connect families to temporary and longer-term shelter.
The center – run by Bay State Community Service and the Executive Office of Health and Human Services – will be open 8 a.m.-8 p.m. on weekdays and 9 a.m.-3 p.m. on weekends.
"This second family welcome center will help increase access to services and expedite the rate at which we are able to connect eligible families experiencing homelessness with safe and secure shelter," said Massachusetts Gov. Maura Healey. "We're grateful for the hard work and collaboration of staff, providers and local officials who are going above and beyond to support families in need."
The dorm contains 55 rooms, three apartments, free laundry machines, and common areas, according to the state. Shelter management firm AMI Expeditionary Healthcare will help run it.
Shelter demand in the state is rising due to skyrocketing cost of housing in major cities and an influx of people arriving from other countries, state officials said. As of Jul. 27, the state's first "welcome center" in Allston has served more than 550 families.