The Rutgers Law School Housing Justice & Tenant Solidarity Clinic is representing members of 75 Prospect Street Tenant Association in lawsuits against companies owned or managed by Ron Kutas, alleging that he is responsible for a building's deteriorating condition.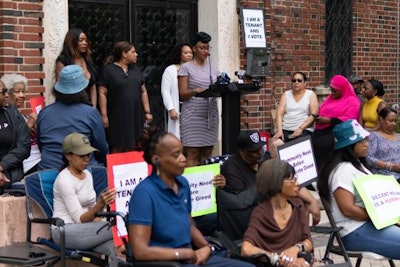 The building in question is "The Castle," a 44-unit historic building with a well-documented history of neglect, including building-wide leaks, mold, and dysfunctional elevators.
The tenants are filing two lawsuits, both arguing that Kutas has allowed the building to deteriorate to drive off tenants, who are protected by a rent control ordinance.
The first lawsuit asks the court to appoint a receiver to take over management of the property, collect rent, and dedicate them to repairs. The Federal National Mortgage Association ("Fannie Mae") is also named in the suit as a lender for the property. The second lawsuit is seeking damages for the tenants' horrendous living conditions, discrimination against those with disabilities, and for violations of East Orange's rent control ordinance.
One tenant, Tenant Association President Erica Coleman, was recently injured from a collapsing water-damaged ceiling in her apartment.
"I complained for years about the leak in my daughter's bathroom. A judge even ordered my landlord to repair it," Coleman said. "After years of patchwork repair jobs, the leak got so bad it caused the ceiling in the neighboring room to collapse two weeks ago. The collapsing ceiling hit me on the head and I spent the night in the emergency room. I suffered a concussion."
And due to the mold, another tenant's quadriplegic son has had to live outside the unit for years.
"I want my family to be able to live together," tenant Carla Evans said. "My son has had to stay at the hospital for years. I've asked the landlord to get rid of the mold. I have offered to move to another floor. They won't do anything. They just want us gone."