A Nov. 13 shooting at the University of Virginia (UVA) has resulted in three people dead and two injured. The suspect, student Christopher Darnell Jones, 22, is in custody as of Monday, NBC News reported.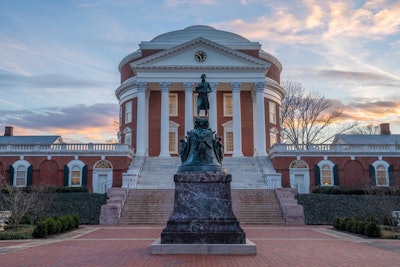 UVA Chief of Police Timothy Longo said that the police department secured an arrest warrant charging Jones with three counts of second-degree murder and three counts of using a handgun in the commission of a felony.
The shooting took place on a bus of students returning from a field trip to see a play, officials said.
Those left dead were junior D'Sean Perry, second-year Devin Chandler, and third-year Lavel Davis Jr. Of those injured, one is in good condition and the other is in critical, said UVA President Jim Ryan.
"This is a message any leader hopes never to have to send, and I am devastated that this violence has visited the University of Virginia," Ryan said.
Students were told to "RUN HIDE FIGHT" and shelter in place – the order was lifted around 10:30 a.m. Monday. A search was conducted on and around the campus grounds early Monday.
Classes will be canceled for Monday, with only designated essential employees expected to report to work, Ryan said.
"I lost my baby. This is my firstborn child," said Davis Jr.'s father, Thaddeus Lavel Davis.