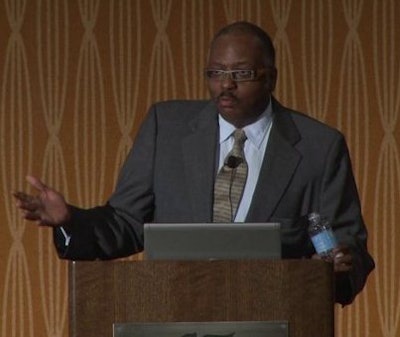 DURHAM, N.C. — Key factors in a student's chance for school success include one's home environment, the quality of the school, and enriching after-school activities, said Dr. Michael T. Nettles, senior vice president of policy, evaluation and research at the Center of Educational Testing Services (ETS). Dr. Nettles was the inaugural speaker in North Carolina Central University School of Education's new Excellence in Education Speaker Series on Feb. 22.
Though there has been some progress, substantial gaps remain, including opportunity, achievement, and education, he said. Black students are more likely than White students to have lower-quality teachers. In high schools with 50 percent or more Black enrollment, 25 percent of the teachers have neither a college major nor standard certification in the subject that they are teaching. In high schools with 50 percent or more White enrollment, the percentage of teachers who do not have a college major nor standard certification in the subject that they are teaching is only 8 percent.
Approximately 18 percent of Black males over the age of 25 have earned a bachelor's degree or higher, compared to 34 percent of White males. Also, 39 percent of Blacks in this age group have only a high school degree, compared to 32 percent of Whites.
The average Black student attends a school where the percentage of low-income students is 59 percent. The average White student attends a school where the percentage of low-income students is 32 percent.
The average high school graduation rate for Black students is 62 percent, compared to 81 percent for White students.
For years Dr. Nettles has conducted research at ETS on the dangers of the achievement gap.
"Students rise to expectations," he said. Statistics indicate that frequently teachers' expectations for Black students are lower than students' expectations for themselves. Recent studies cite that a strong family environment, academic readiness of young Black males, and more learning opportunities outside the classroom will lead to more success.
As senior vice president for policy evaluation at ETS, Dr. Nettles' research focuses on educational assessment, student achievement, access, equity, faculty compensation and rewards, and higher education finances. The company specializes in research, assessment development, test administration and test scoring.
Dr. Nettles mentioned President Barack Obama's goal that 60 percent of the American population possess a two-year or four-year college degree by 2020. As for the statistic that only 59 percent of urban teachers would choose the profession if they could "start over in their career," Dr. Nettles hopes that conditions for teachers can be addressed more thoroughly.
Dr. Nettles serves on the board of the National Center for the Improvement of Educational Assessment, as well as the Board of the National Science Foundation-sponsored Center on Research on Teaching and Learning, and the Board of the Center for Enrollment Research, Policy and Practice at the University of Southern California.
For more than a decade he served on the National Assessment Governing Board, which oversees and develops policies for the National Assessment of Educational Progress (NAEP). He also is on the College Board of Trustees, which owns the SAT, Advanced Placement course and exams, and other educational products and services.
Dr. Terri Mozingo, assistant superintendent for Assessment and Evaluation for the Durham Public Schools, and Brad McMillen, senior director for Data and Accountability for the Wake County Public Schools, joined Dr. Nettles in addressing challenges in the schools.
Mozingo noted that today's public schools are much more data rich. She said her school system's Strategic Plan focuses more on meeting the needs for Black and Hispanic students.
"The N.C. Public Schools have a new accountability including data, goals, and students' career aspirations," she said. "There is also more focus on leading and lagging indicators, more training in teaching Common Core State Standard courses and setting targets for success." The key, she noted, was turning data into action.
Brad McMillen, senior director for Data and Accountability with the Wake County Public Schools, said that obtaining data in school was easier, faster and more efficient. "We always have more data than we can make sense of," he noted. Data illuminate many gaps among students. "There are achievement gaps, money gaps, opportunity gaps," he said. "We don't create these gaps but we fail to close them."
According to Dr. Wynetta Lee, dean of NCCU's School of Education, speakers will be invited to deliver an address once each semester, and possibly once during the summer. Some future topics may include Globalization of Education and Teacher Preparation, Effective use of Technology in Instruction, Cultural Competence, and Effective Educational Leaders. She said the series will serve as a model to students about the importance of life-long learning throughout one's career.
The NCCU School of Education already hosts an annual Research Symposium and the Technology Conference, which contributes to the professional development of faculty, students, and staff.