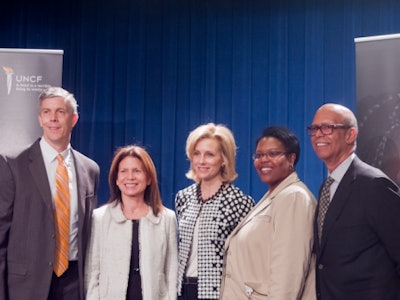 WASHINGTON—The United Negro College Fund has put a spin on its memorable tagline, "A Mind is a Terrible Thing to Waste," to stress the importance of investing in a college education for young African-Americans.
At an event at the Department of Education on Friday, UNCF President Dr. Michael Lomax introduced the "Better Futures" campaign, which features the new tagline "A Mind is a Terrible Thing to Waste, But a Wonderful Thing to Invest In" and new public service advertisements, to an intimate room of higher education leaders and advocates, including Chancellor of D.C. Public Schools Kaya Henderson, former UNCF executive director Vernon Jordan and Secretary of Education Arne Duncan.
The new campaign was created in partnership with the Ad agency Y&R and the nonprofit Ad Council, the team that created the original "A Mind is …" campaign in 1972 with Jordan. Lomax described the new campaign as "a call to action" to "ensure that our young people have the education they need to step up and be a part of a global economy that is tougher than ever before."
UNCF introduced five 30-second PSAs that featured real college and high school students from across the country. One video featured a student, Sidney, who asks the public to think of investing in a child's education like a stock.
"Not the kind of stock that's about making money," she said, "but a stock for social change. When you invest, it helps kids go to college. My name is Sidney, and I'm your dividend."
Another video, for example, showed a student named David, who grew up in the housing projects of Cleveland.
"Education for me has been a way to get away from the idea of what was a normal life," he said. "I want to be able to impact the community. Not just look back on where I came from, but to reach back to where I came from and pull some people up with me. My name is David, and I am your dividend."
Lomax explained the PSAs were designed with the intention to not only raise money, but to inspire other children to go to and through college.
"Our young people need not only financial support and rigorous academics, they need us to foster a college-going culture …," Lomax said.
Duncan also remarked that, although there has been progress in Black communities with high school graduation rates and college enrollment rates at an all-time high, there is still more work to be done.
"At the end of the day, the number of African-Americans who have college degrees is about 20 percent in our country," he said. "So to think we are anywhere near where we need to be would be an absolute fallacy."
He continued, "If we don't provide financial opportunity, if we don't break down the barriers of cost, we will not produce that generation of leaders, of job creators or entrepreneurs who will come back to our communities and give our children a reason to hope."
In his remarks, Vernon recalled that UNCF first launched the "A Mind is …" campaign as a way to capture America's attention about the crisis in Black higher education. He said "Better Futures" expands on "A Mind is …" by asking the country to invest today in tomorrow's leaders. "In my time, it was about giving and this campaign is about investing," he said.
According to Lomax, UNCF's investment in African-American education after nearly 70 years has totaled more than $100 million a year in scholarships for more than 10,000 students at more than 900 colleges across the country. He added that UNCF African American scholarship student recipients have a 70 percent six-year graduation rate, 13 points higher than the national average for all students and 32 points higher than the national average for all African-Americans.