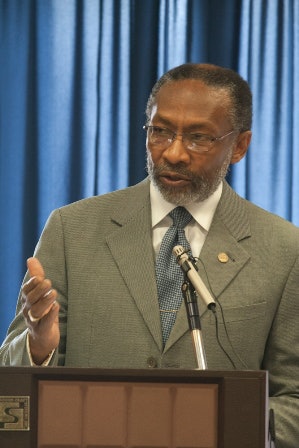 Just one day after he welcomed students and faculty to campus during the annual fall convocation, Stillman College President Ernest McNealey was removed from his position by the Board of Trustees.
On Thursday, McNealey delivered a message of preparing for personal success in the face of adversity during the ceremony. He reported the state of the private college, with an operating budget of $27 million, as good, but tempered comments highlighting the national decline in student enrollment and financial difficulties.
He also cited an increase in denials in student loan requests. "While certainly there are storm clouds on the horizon, we can see silver linings in those clouds," he told students and faculty.
McNealey called the national statistics depressing, but said Stillman will continue to pursue its goals despite adverse conditions.
"We will continue to search for the next new thing that circumstances say we cannot do and do it," McNealey said.
On Friday afternoon, the college released a brief statement naming Peter Millet, provost and vice president for academic affairs, as interim president.
Millet came to the college in the fall of 2012, formerly serving as dean of education at Tennessee State University and as a Mellon assistant professor of psychology at Connecticut College.
An official statement is slated to be released by Tracy Rosser, chairman of the Stillman College Board of Trustees. University spokesperson Mary Sood said she did not have any further details about McNealey's dissolution.
Stillman is located in Tuscaloosa, Ala., and was founded by the General Assembly of the Presbyterian Church in 1876.  The college is noted for programs in biological sciences, business administration and teacher education, in addition to its Honors College and pre-professional programs in law and medicine.
McNealy served as president for nearly 16 years at the small, private Presbyterian College, where enrollment fell from an average of 1,200 students to 982 last fall, according to Sood.
During his tenure at Stillman, McNealey's accomplishments included increasing the college's assets by 51 percent; achieving the largest endowment in its history; guiding the institution through its first four discipline-specific accreditations in business, education, nursing and music; and transforming the physical plant via campus-wide renovations and expansions.
McNealey is also credited with the first-ever ranking in the top tier of schools in the Southern region and selection as one of the nation's top 15 wired campuses by U.S. News & World Report.
After a 50-year hiatus, McNealey returned football as an NCAA-sanctioned sport and inaugurated "The Blue Pride Marching Band."
Despite his successes, critics have blamed a "my-way-or-the-highway" management style on high employee turnover and poor relations with the Tuscaloosa business community.
McNealy has weathered several storms and has seen student enrollment peak to 1,530 in 2000 as well as its current decline of less than 1,000 students.
McNealey holds a bachelor's degree from Alabama State University, a master's from Indiana University and a Ph.D. from The Ohio State University.