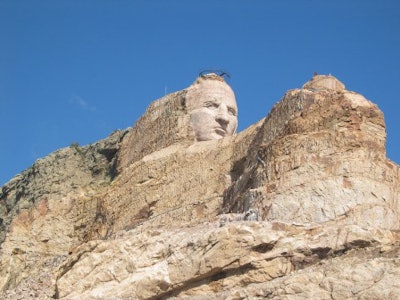 SIOUX FALLS, S.D. ― An annual summer education program at the Crazy Horse Memorial aimed at Native American high school graduates is giving participants a jumpstart on their college careers.
About 68 percent of the students who have attended Indian University of North America summer sessions in the backdrop of the mammoth mountain carving in South Dakota's Black Hills have continued to pursue degrees at private public or tribal colleges and universities, says Ruth Ziolkowski, Crazy Horse's chief executive officer. The retention rate for Native American college students is typically less than 20 percent, she says.
The Crazy Horse Memorial Foundation covers students' costs and runs the school in partnership with the University of South Dakota.
"It gives them a leg up," says USD provost Chuck Staben. "It gives them a great summer experience."
The 32 participants in the 9 1/2-week program take courses in algebra, English and Native American Studies and are eligible to earn up to 12 college credits toward their degree at any university or college. Students receive a scholarship for tuition, books and supplies and a portion of food and lodging costs.
The program is open to graduating high school seniors ages 17 to 21 with a cumulative 2.5 grade point average. Preference is extended to enrolled members of federally recognized tribes, but the program is open to all qualified students.
Ruth Ziolkowski, the widow of Crazy Horse sculptor Korczak Ziolkowski, says her husband always dreamed of having an educational element to the complex, but he was focused on finishing his mountain carving.
"If you carve a mountain, people will come," she recalls him saying.
Ziolkowski said last year was the first year the program had more students apply than available slots. The program was launched in 2010. Future plans call for a full-fledged university on the Crazy Horse grounds.
Crazy Horse played a key role in the 1876 defeat of the U.S. 7th Cavalry at the Battle of the Little Bighorn in Montana. He died a year later after being stabbed in Nebraska. When completed, the carving of his image on a bluff about 10 miles southwest of Mount Rushmore will be 641 feet long and 563 feet high.
Applications for the 2014 program are due by March 31.