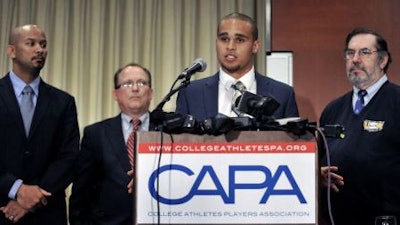 CHICAGO—A federal agency kicked off the first in a series of hearings Wednesday on whether to approve a bid by Northwestern University football players to unionize, and both sides acknowledged the key question was whether college athletes can be considered employees.
During a National Labor Relations Board hearing in Chicago, lawyers for the proposed union and the university agreed that if college football players qualify as employees, they can legally form the first-of-its-kind union and if not, they can't.
"That is the key threshold issue," university attorney Alex Barbour said.
If the union, called the College Athletes Players Association, or CAPA, eventually gets the green light, advocates say it will provide athletes a vehicle to lobby for financial security and improved safety on the field.
This first attempt is being closely watched, with the expectation that, if it succeeds, other college teams nationwide could quickly follow suit.
The players' attorney, John Adam, argued his clients met the definition of employees because they put in 40-hour workweeks during the season, are managed by coaches and receive payment in the form of scholarships.
"They are entitled to be represented by a union … to bring a voice" to their grievances, he said.
Barbour disagreed. He told the hearing scholarships aren't divvied out as wages.
"Scholarships are for getting an education," he said. "It is not a form of compensation for playing football."
Supporters stretch the definition of employees too far, he argued. And he said it would raise other questions, including whether walk-ons without scholarships could be in the union.
Wednesday's hearing was meant to identify main points of contention, not to thrash them out in detail. That happens next week with three days of testimony. A decision on whether CAPA can organize could come soon after.
One witness who will testify next week for those petitioning for the union will be the Wildcats' outgoing senior quarterback, Kain Colter.
Colter and former UCLA linebacker Ramogi Huma, CAPA's designated president, announced the formation of the union last month. United Steelworkers said it was footing the legal bills.
For now, the push is to unionize athletes at private schools, like Northwestern. Public universities, which are subject to different regulations, could follow later
After Wednesday's hearing, which lasted less than an hour, Northwestern distributed a statement reiterating its opposition to the union at the Evanston, Ill.-based school.
"We do not regard, and have never regarded, our football program as a commercial enterprise," said Alan K. Cubbage, the vice president for university relations.
But Adam told reporters after the hearing that football players generate hundreds of millions of dollars for schools annually. So, he said, universities' insistence on calling them "student athletes" was inaccurate.
"This is a myth that we intend to demolish," he said.