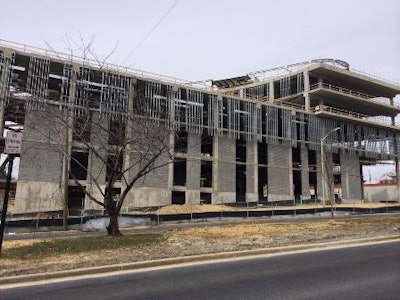 A new state-of-the-art building is being constructed at Maryland's oldest HBCU—Morgan State University—and will be named after one of its most successful alumni—businessman and media mogul Earl G. Graves Sr.
The construction of the $80 million facility will house the university's School of Business and Management, which was renamed in 2005 after the founder and publisher of Black Enterprise magazine who donated a $1 million gift to advance business education at the college located in Baltimore.
With more than 50 full-time faculty members and an enrollment of about 1,500 graduate and undergraduate students, the School of Business has outgrown its current facility, said Morgan's president, Dr. David Wilson.
"We are super excited about the construction of this building," Wilson said in an interview with Diverse.
According to Wilson, the 140,000-square-foot Earl G. Graves School of Business and Management will include a lecture hall and classrooms, a large kitchen for hospitality classes, a simulated Wall Street trading floor and 10 hotel-style rooms.
The Earl G. Graves School of Business and Management currently offers degrees in accounting, finance, business administration, marketing, human resource management, hospitality management, and information science and systems.  The school also offers a master's and Ph.D. in Business Administration.
Graves, who graduated from Morgan in 1957, could not be reached for comment but has long been devoted to his alma mater and returned to campus in 2012 for the groundbreaking ceremony for the building.
It was during his years at Morgan that Graves developed his entrepreneurial skills, where he began mowing lawns up and down Hillen Road on the city's west side.
"When people ask me about the most important influences in my life, I start by mentioning Morgan State University," Grave once said.
Since Morgan is a public institution, the State of Maryland agreed to finance the building, which is being constructed on the former site of Hechinger department store where MSU students staged a series of sit-ins against racial segregation throughout much of the 1940s and 1950s.
"We've come full circle," said Wilson of the building that will now bear the name of one of the nation's most celebrated Black business executives. "What makes this facility so special is that we have sited this building on the grounds of the former shopping complex."
At a time when construction is on the decline at so many HBCUs, the fact that Morgan has been able to garner funds to push forward with an ambitious project is likely to help draw additional students to campus.
Meanwhile, at nearby Howard University, Alfred C. Liggins, the president and CEO of Radio One, recently made a gift of $4 million to the School of Communications in honor of his mother, Radio One Chairperson/Founder and Howard alumna Cathy Hughes.
Jamal Watson can be reached at jwatson1@diverseeducation.com. You can also follow him on twitter @jamalericwatson